Employment
Accounting & Payroll Officer The Trustees of the De La Salle Brothers (Province of Australia, New Zealand, Pakistan & Papua New Guinea)
With the retirement of our Accountant, we have a vacancy for a permanent .8 FTE 4-day/week position that has flexibility to be worked over 5 shorter days or 4 full days, per week.
Working within our small but engaging team, you will be responsible for managing the accounting and payroll functions for the Trustees Provincial Office and two Mission entities.
Key to this role is your sound experience across a range of general accounting activities, reporting, banking and payroll management. You will possess the drive to initiate ongoing improvements.
In undertaking your responsibilities, you will work closely with the Director of Finance, Director of Human Resources, Brothers' Communities, religious, lay staff and the Lasallian Mission Services team, to whom you will provide regular services.
The successful applicant will have excellent written and verbal communication skills, be committed to high ethical standards, confidentiality and integrity, an ability to work collaboratively across groups and the capacity to manage multiple tasks efficiently in a highly supportive environment.
You will be willing to uphold the teachings of the Catholic Church and the values and charism of the De La Salle Brothers and ideally want to work for an organisation which makes a difference to the lives of others within the community.
Youth Ministry

Lasallian Youth Ministers are employees of Lasallian Mission Council and are responsible for animating the faith life of their base school and the individual faith development of the young people they meet, in accordance with the Lasallian tradition and in coordination with school staff. Their ministry is tailored to school culture and needs, with a focus on building relationships with students and providing a credible witness of faith.
For more information click on the below links:
The Lasallian Youth Minister Role Description 2021
Lasallian Youth Minister Testimonial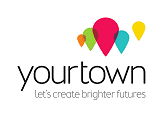 At yourtown our town is your town. We're all about people, how we work with each other and the hundreds and thousands we care for each year. We take the time to listen, understand and encourage people to find their place. We offer attractive employment conditions including access to salary packaging arrangements and paid parental leave. Find your place at yourtown.
yourtown is a charity predominantly funded by the community. Employing over 500 staff across Australia, our services tackle some of the toughest issues facing children, young people and families - homelessness, family and domestic violence, mental health and wellbeing and youth unemployment. We are also the proud provider of Kids Helpline and Parentline telephone, email and web counselling services. At yourtown you will be part of the solution, we believe every young person has the right to a brighter future and we'll do whatever it takes to help make that happen.
Please visit our employment page to view available opportunities
You can also contact our Resourcing Partners via email or (07) 38671376.