Employment
Youth Ministry

Lasallian Youth Ministers are employees of Lasallian Mission Council and are responsible for animating the faith life of their base school and the individual faith development of the young people they meet, in accordance with the Lasallian tradition and in coordination with school staff. Their ministry is tailored to school culture and needs, with a focus on building relationships with students and providing a credible witness of faith.
For more information click on the below links:
Lasallian Youth Minister Testimonial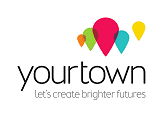 At yourtown our town is your town. We're all about people, how we work with each other and the hundreds and thousands we care for each year. We take the time to listen, understand and encourage people to find their place. We offer attractive employment conditions including access to salary packaging arrangements and paid parental leave. Find your place at yourtown.
yourtown is a charity predominantly funded by the community. Employing over 500 staff across Australia, our services tackle some of the toughest issues facing children, young people and families - homelessness, family and domestic violence, mental health and wellbeing and youth unemployment. We are also the proud provider of Kids Helpline and Parentline telephone, email and web counselling services. At yourtown you will be part of the solution, we believe every young person has the right to a brighter future and we'll do whatever it takes to help make that happen.
Please visit our employment page to view available opportunities
You can also contact our Resourcing Partners via emailor (07) 38671376.