Lasallian Mission Council Board Members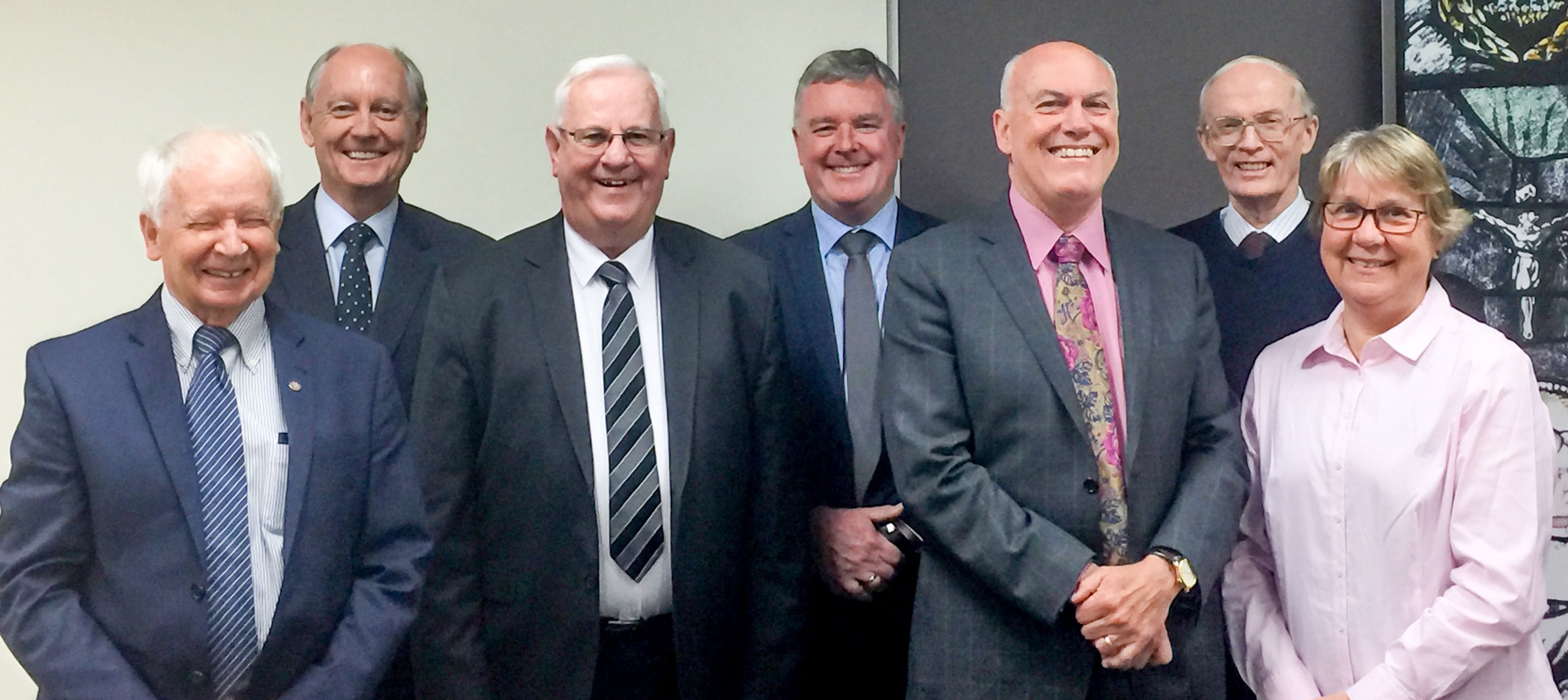 MR WAYNE BULL CHAIR
Wayne is currently the Deputy Executive Director of Catholic Education Western Australia. Prior to this appointment, he was a Catholic secondary principal for 20 years, including 12 years as Principal of La Salle College, Middle Swan.
In 2015, Wayne was granted the Letters of Affiliation from the Superior General. He is a past President of the WA Catholic Secondary Principals' Association, a Fellow of the Australian Council of Educational Leaders and the Australian Institute of Management, a Member of the Australian College of Education and a Member of the Australian Institute of Company Directors.
Wayne is currently a director of two school boards and is the Chair of his local Parish Council. Wayne holds a Master's Degree in Educational Leadership as well as qualifications in Religious Education and Humanities. He is also a graduate of the Lasallian Leadership Course, a former Commissioner of the Catholic Education Commission (CECWA) and former Chair of CECWA's School Resources Committee. Wayne is also a former member of CECWA's Religious Education and Curriculum Committee and past Chair of Catholic Arts WA.
BR CHRIS GORRINGE, DEPUTY CHAIR
Chris is the District Bursar of the ANZPPNG District and is a former secondary school teacher and administrator. He is a former Director of yourtown (formerly Boystown), Lasallian Foundation and De La Salle College, Malvern. He is currently a Board Director at St Michael's College, Adelaide; St Bede's College, Mentone and Oakhill College, Castle Hill. Chris is also a member of the South Australian Commission for Catholic Schools (SACCS).
BR DAVID HAWKE, BR VISITOR
Br David Hawke is a De La Salle Brother who completed fifty years as a Brother in 2019. He has worked in Catholic Lasallian Schools in New Zealand and Australia holding various positions including Principal of De La Salle College, Mangere East. As a teacher, he taught mainly Religious Education and Geography. While Director of Religious Studies at De La Salle College Mangere East, he was one of a working party who wrote the national secondary religious education curriculum for New Zealand. While based in Auckland, he served as Chair of the Diocese of Auckland Pastoral Council.
Br David served some years as Director of the Brothers' community at Mentone and worked as Religious Education Coordinator at St Bede's College. During this time, he was a member also of the District Council.
From 1996 until the present he has been involved in District and international administration of the Institute of the Brothers of the Christian Schools. He served as Visitor from 1996-2004 and in 2005 established the PARC Regional Office in Singapore. In 2007 he was elected to the General Council based in Singapore and Rome. Upon returning to Australia in August 2014, he was appointed again to the position of Visitor for Australia, New Zealand, Pakistan and Papua New Guinea. He is also currently a member of the Catholic Religious Australia Council.
MR MERV MCCORMACK EXECUTIVE DIRECTOR
Merv is in his sixth year as Executive Director of the Lasallian Mission Council. He has had more than 45 years' experience in Catholic education, working as a teacher, coordinator, Principal and Consultant, in both independent and systemic Catholic schools. His involvements included project work on school amalgamations; development of a single-sex school to a co-educational one; and the appointments of Principals and Assistant Principals. He is a former Director of the Marists' John Berne School and former Chair of the Board of Good Shepherd Rosemount (Australia & NZ). His experiences have also included membership of two Sydney Parish Pastoral teams.
Merv holds Diploma, Bachelor and Masters degrees in Education. He is also a Justice of the Peace
MS ANN CORCORAN
Ann is a qualified accountant (a CPA throughout her working life) and a member of the Australian Institute of Company Directors. Her professional life includes working as Business Manager of three schools - De La Salle College Malvern, Woodleigh and Kilvington Grammar. She has held the positions of Student Ombudsman at Monash University, the Federal Member of Parliament for the seat of Isaacs, the Deputy Director and then Acting Director of Finance at Royal Melbourne Hospital, the Management Accountant at Frankston Hospital (formerly Mornington Peninsula Hospital).
Ann has also held various administrative roles at The University of Melbourne and the Australian Tax Office. Ann has served on the District's Economic Council for some years as well as her work on the Lasallian Mission Council Board.
MR MICHAEL EGAN
Michael has worked in Catholic Education for 37 years and has held the role of Principal at La Salle College Bankstown since 2013. Prior to this he was Principal at De La Salle Catholic College, Caringbah and has previously held roles at Aquinas College, Menai; Marcellin College, Randwick; Champagnat Catholic College, Pagewood and Marist College, Kogarah. He holds a Bachelor of Education, as well as Masters degrees in Religious Education and another in Arts, Theological Studies. Michael is a former member of the Catholic Education Commission of New South Wales and current President of the NSW Association of Catholic School Principals, (ACSP). He is also Chair of the Sydney Archdiocesan Catholic Secondary Principal's Association (SACSPA). Michael is Chair of the Lasallian Mission Council Finance and Risk Management Committee.
MS LYN HARRISON
Lyn Harrison has over 40 years' experience in Education as a Teacher, School Counsellor, Private Psychologist, Private Consultant to Schools, Executive Manager and Chief Executive Officer.
Lyn developed the Marist Youth Care Restorative Justice Program, a program implemented across Australia that challenged schools to reflect and review their systems in responding to students with extremely challenging behaviours. Following her role of CEO at Rosemount Good Shepherd, Lyn was appointed National Director Service Development within Good Shepherd Australia New Zealand. One outstanding achievement was the establishment of the Waranara Registered School for young people who were unable to attend mainstream. Once again, it was evidence of Lyn's core belief in the integration of welfare and education programs.
In 2016 Lyn was appointed CEO of St Francis Social Services where she developed the new strategic plan, formed a new leadership team, founded a new centre for the House of Welcome and formed the NSW Alliance for People Seeking Asylum.
With her husband Peter they have two married children and three delightful grandchildren.
Lyn looks forward to her contribution to the LMC Board and hopes her background and experience can make a meaningful contribution.
DR JILL GOWDIE
Jill has wide experience in Catholic Education, Church and Leadership Formation. She is known across Australia and overseas as a writer, teacher, presenter and facilitator. Jill has taught at primary, secondary and university levels and in adult and school consultancy contexts. Her work now includes research and consultancy, school and system leadership review, program design and strategic facilitation.
Jill's expertise is grounded in qualifications across theology, journalism, religious education, liturgy and spiritual formation. Her Master's degree is in Religious Education. Her PhD studies explored the challenge of contemporary formation for educators and leaders, drawing together the areas of theology, formation, missiology, change theory and best practice in adult professional learning. Jill received an inaugural national award for excellence in research in Religious education, and was awarded Summa Cum Laude from the international examiner of her doctoral dissertation in Educational Leadership.
Jill founded the national network - Formation for Australian Catholic Educators (FACE) and is involved in the leadership, on a national level, of the work in Catholic School Identity.
MR KANE RAUKURA
Kane is currently the Chair of the New Zealand Sector Mission Council and has worked extensively with the De La Salle Brothers over the last 20 years in all areas of mission and formation. Honoured with 'Affiliation' in 2017, Kane's involvement has seen him attend and strongly support District events, be a presenter on numerous occasions and contribute his expertise at an international level. A graduate of the Buttimer Programme, CIL in Rome and current online facilitator of the John Johnston Institute, Washington DC, Kane brings passion and enthusiasm to his Lasallian Vocation. Recognised with multiple national awards for teaching excellence, Kane is found daily in front of his students and practising his trade as the Head of Science at De La Salle College Mangere. A consummate educationalist and supporter of today's youth, Kane is vocal and driven to ensure that we all continue to grow, foster and guarantee the authenticity of our Lasallian Mission within our District.