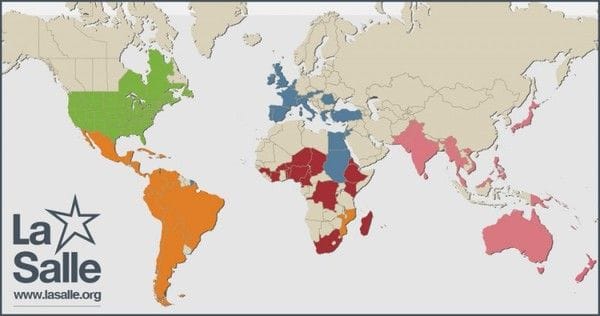 The Worldwide Lasallian family.
The De La Salle Brothers in our district of Australia, New Zealand, Pakistan and Papua New Guinea are part of a global network of around five thousand Brothers around the world.
The Brothers work to improve the lives of disadvantaged communities in countries such as South Sudan, Sri Lanka, India and Mexico.
The Generalate
The Generalateof the Brothers of the Christian Schools is based in Rome and is the official residence of the Brother Superior General, Br Robert Schieler and his Council.
It is from this building that the De La Salle Institute is governed and where the administration of anything connected with the De La Salle Institute is supervised.
Five councillors from the key geographic regions of the Lasallian family are based at the Generalate.
Pacific Asia Regional Conference (PARC)
Based in Singapore, the PARC conference includes our own ANZPPNG District and also includes Lasallian works in India, Japan, Malaysia, Myanmar, the Philippines, Sri Lanka, Singapore, Thailand and Vietnam.
The General Councillor for the PARC Region is Br Ricardo Laguda.
Region of Lasallians in Africa-Madagascar (RELAF)
With headquarters in the Ivory Coast capital, Abidjan,RELAF covers Lasallians in large parts of Africa including Egypt, Ethiopia, Mozambique, Nigeria, Sudan, South Sudan and South Africa.
The General Councillor for the RELAF region is Br Pierre Ouattara.
Region of Lasallians in Europe and the Mediterranean (RELEM)
Based in Paris, RELEM includes parts of the Middle East and northern Africa including Libya, Israel, Palestine and Turkey.
It also covers large parts of Europe including Germany, Spain, France, England, Greece, Ireland, Italy, Malta, Poland and Portugal.
The General Councillor for the RELEM region is Br Aidan Kilty.
Region of Lasallians in Latin America (RELAL)
Based in Colombia, the RELAL region covers large parts of Latin and South America including Argentina, Bolivia, Brazil, Peru, Chile and Mexico.
The General Councillor for the RELAL region is Br Paulo Petry.
Region of Lasallians in North America (RELAN)
Based in Washington DC, the RELAN region covers the United States and the provinces of Quebec and Ontario in Canada.
The General Councillor for the RELAN region is Br Timothy Coldwell.