Br Gerald Barrett is celebrating 50 years as a De La Salle Brother.
Br Gerald (Gerry) was born 3rd September 1950 in Cootamundra, NSW. He was educated by the Sisters of Mercy and the De La Salle Brothers in Cootamundra and in Year 11 and 12 at De La Salle Cronulla, House of Studies. Br Gerald joined the Novitiate at Burradoo in 1969 and undertook his teacher qualification studies at Castle Hill.
Brother Gerald's teaching career included appointments at Oakhill College Castle Hill, Scarborough, Orange and Derby (Principal), all in Primary Education, and he later transferred to Secondary Education in Malvern, Beaudesert and Bankstown.
Br Gerry considers himself fortunate to have attended a renewal program at Sangre New Mexico and the CIL program for Directors in Rome.
We sat down with Br Gerry.
What is your current role? Explain?
I am teaching at La Salle Catholic College Bankstown. This year I am teaching Year 7 and 8 Religion (CST) and Years 7,8,9 and 10 Maths. Out of school, I am the Director of the Brothers' Community at Bankstown.
Fifty years as a De La Salle Brother, what an achievement. What made you want to join the De La Salle Brothers?
I would have to say that it was the contact and influence of the Brothers who taught me at De La Salle, Cootamundra.
Is there a particular moment or memory that stands out for you over the past 50 years?
The one that sits firmly in my memory is back in 1989 when I was Principal of Holy Rosary, Derby. Halfway through the year, my father passed away. Upon my return, I was sitting outside my office at the end of the day when a Year 2 boy, Jordie, came up and asked if I was feeling sad. When I said, just a little, his reply was "don't worry, you have us". Aboriginal people have a great sense of family and belonging.
What has your favourite assignment been? Explain?
This is a question asked by students when they ask me what was my favourite school, to which I respond that each has its special memory and I have always been happy with the places I have taught and lived in.
What was your hardest assignment as a Brother? Explain.
My hardest assignment would have to have been working at Boystown, Beaudesert. I suppose I felt a little ill-prepared to deal with students with huge problems. At the same time, there were also some good memories.
Who has been the biggest influence/s on your life? What lessons did that person/s teach you?
The two biggest influences in my life would have to be my Grandmother and my mother. Both taught me how to be generous and to be less self-centred, and to treat all people in your life with as much love and respect as you possibly can.
What are the most important lessons you've learned in life?
For me, the most important lesson has been that no matter who you are, how old you are, there is always something that you can do. I believe that I can still make a difference in my time here at La Salle just by being true to myself, to treat all with respect and by being the best you can with the gifts and talents that the Almighty has given to each of us.
What was the most profound spiritual moment of your life?
Probably one of the most profound experiences in life was when I was teaching in Orange. The former Principal was Sr. Clare Murphy, who had been diagnosed with terminal cancer and had six months to live. She was living with her elderly parents when I decided to visit her and try to cheer her up. I informed her that I was taking up the position of Principal in Derby and wasn't sure how it would work out. During our moment together she said, "Gerry, I don't know why this is happening to me. When I finally die I am sure God will be there to greet me and to let me know WHY."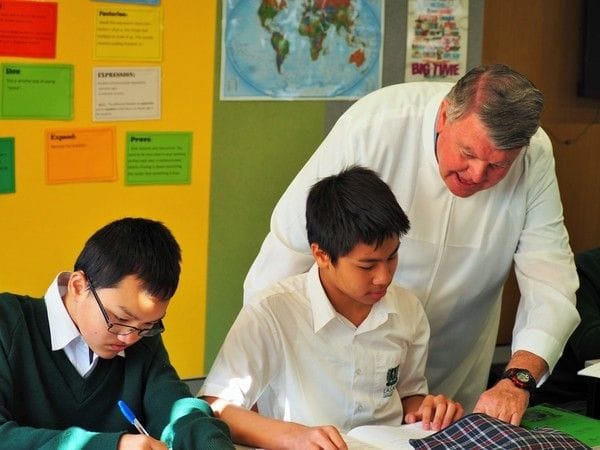 To find out how you can become a De La Salle Brother contact us at +61 (2) 9795 6400 or DLSComms@delasalle.org.au
"Become a De La Salle Brother A Million Reasons to say Yes!"