De La Salle Brothers have joined with students, teachers and alumni from across Papua New Guinea in celebrations to mark 70 years of continuous Lasallian education in the country.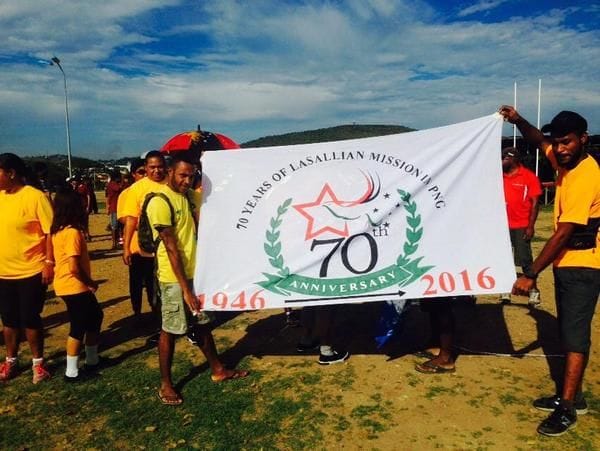 The Catholic Archbishop of Port Moresby, the Most Reverend John Ribat celebrated a Mass at Bomana where four pioneering Brothers from Sydney established a community and a primary school in 1946.
During the Mass at Sacred Heart Church, a presentation was made to an Australian volunteer, Mr Michael Brosnan who has been made a Benefactor of the Institute to honour his remarkable contribution to the Lasallian Foundation in Papua New Guinea and India over many years.
Mr Brosnan has been instrumental in managing key building projects in Port Moresby, including the establishment of the Lasallian Teachers Village in the city.
He has also worked tirelessly with local Rotary Clubs to move shipping containers full of donations from Australia bound for PNG schools and helped establish an ongoing partnership with the Lasallians through the Rotary Australia Worldwide Community Service.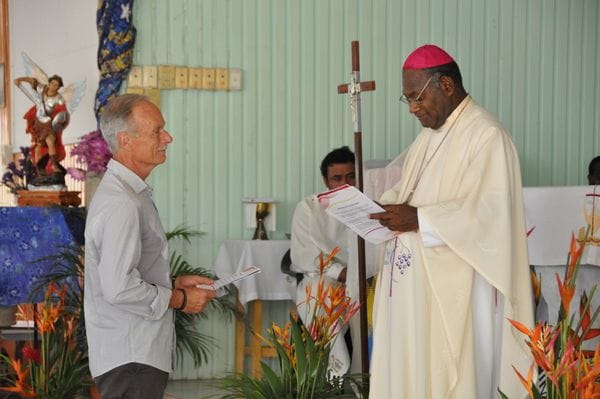 Mr Brosnan received a personal blessing from Archbishop Ribat and was congratulated for his efforts by Brother Visitor David Hawke, PNG Sector Coordinator Br Chris Gorringe and a large group of Brothers who had travelled from Australia for the 70th anniversary celebrations.
The Australian Brothers who were present had all worked in PNG schools and teachers colleges over recent decades and the celebrations were a great opportunity to reunite with some of their former students and teaching colleagues.
Earlier in the week, PNG students joined with alumni to mark the 70th anniversary celebrations through a festival held at La Salle Technical College in Hohola.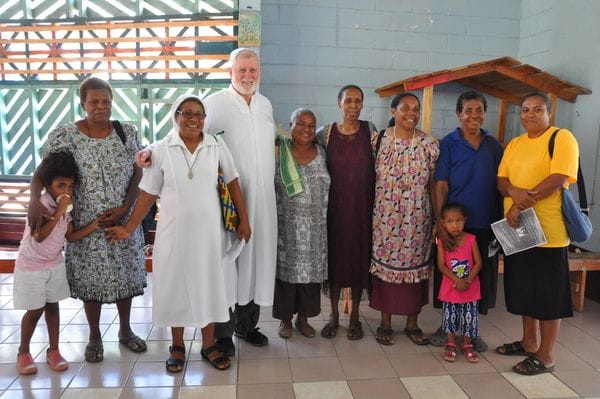 Alumni from Lasallian schools in Mainohana and Kondiu came to Port Moresby to join in the special celebrations, which included a march through the streets of the city.
One of the Australian De La Salle Brothers who has made a significant contribution in PNG over many decades, Br Bede Mackrell, was a keynote speaker at a dinner held at La Salle Technical College in Hohola.
The event was featured on a national TV news program in PNG that night.
The celebrations this year have also included a landmark National Gathering of Lasallian Teachers which was held in July and brought together 230 teachers from across PNG for a conference in Port Moresby.