Posted by Sr Julianne Murphy rsj on 8 December 2016
To gain insight to that infamous Journey to Bethlehem you could consult Google, read works of the theologians or ask a group of six year olds. The latter seemed the best avenue for a good story and a great insight!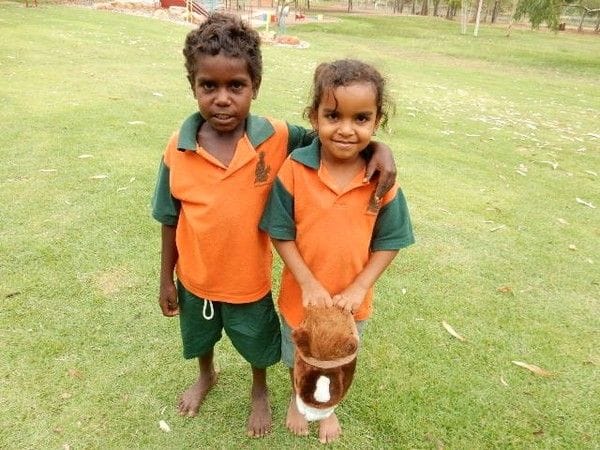 Every year school children around the world learn about the Christmas story. They read in the Gospels about the time Mary and Joseph travelled to Bethlehem to have baby Jesus. Now over 2000 years later, Matthew and Luke's accounts are re-told by some insightful young Aboriginal theologians...
The children re-imagined God creating a beautiful country, where all that was once good needed the help of Jesus to come into the world. The people waited a long time, but a beautiful baby named Jesus was born to Mary and Joseph under a star and brought hope, love, joy and peace.
The story is in Kreol , the home language of the Gija People (evolved from English and Gija) in the East Kimberley. Enjoy!
(PS. Ngapuny is the local word for God pronounced Narbun)
Long time ago, Ngapuny bin make em country. We bin proper one happy for what Ngapuny bin doin. And big mob proper happy one in the country.
But then som bella never learn Ngapuny way, there bin hunger, sadness, lies, anger, hate and naughty. We bin sorry one.
Big mob sing out. NGAPUNY HELP US!
They em waited, and em waited, and em waited, and em waited and em waited just like Advent.
Ngapuny bin having good idea! He wanted em baby Jesus to go to country.
He don't know how?
Could em get im Wangawiny Jesus at Warmun store? NO
Could em get im Wangawiny Jesus at Coles? NO
Could em get Wangawiny Jesus on internet? NO
What Ngapuny gotta do?
This one bin idea for Ngapuny.
A girl named Mary goin walking about. Ngapuny bin send angel to her.
The angel bin tellin Mary she was goin have a wangawiny (baby) called Jesus to make things proper happy in the country.
Mary bin say YO! I will have wangawiny , and me and Joseph can look after im.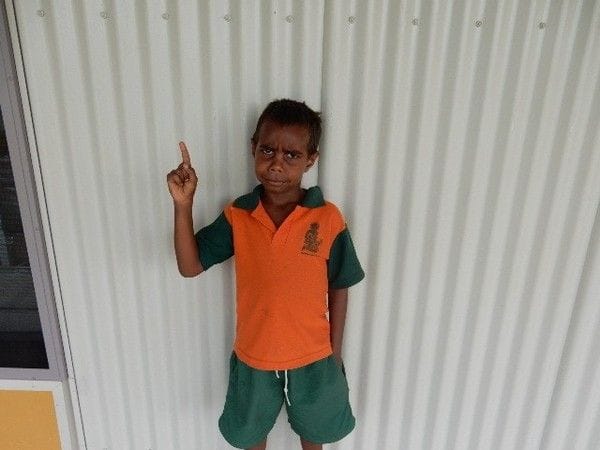 And that baby will bring good, that good one present to the country. No hunger, sadness, hate and naughtiness. That wangawiny will bring Hope, Love, Joy and Peace.
Mary got big one binji (stomach). She and Joseph rode em yartemerewany (donkey) to Bethlehem to have them wangawiny. They bin happy proper one.
Joseph jarrak (talk) the inn keeper You got em any room for us mob to have em Wangawiny?
The innkeeper bin tellin them No, but we got em place where bullock and donkey sleep in pullmim (bough shed).
The baby bin born underneath pretty one wartel and Mary bin calling im Jesus.
Shepherds bin out in country. Angel bin tellin em Jesus born. They bin go nyalala (walk about) to see the wangawiny.
A mob kings bin following a wartel (star) to look la Jesus and bringin im some presents. tucker, boomerang and jarrij (digging) stick.
Big mob bin goin look tamm (camp) la Jesus bin paku (sleep) and all were proper happy.
So, let's join these children and go on our journey to look at this baby Jesus so we can be "proper happy" too!