Posted by Maroun Azzam on 16 August 2019
At the end of the second term, Rodwill, Anton and I (Lasallian Volunteers placed in Port Moresby, Papua New Guinea), accompanied Br Thomas Yapo (Deputy Principal of De La Salle Secondary School Bomana), on an unforgettable five-day journey to Mount Hagen. Mount Hagen is located in the inner west of Papua New Guinea, or as it is more commonly known, the Western Highlands. All the talk before the journey commenced gave this trip a real hype, and when we landed, it lived up to its expectations.
We were graciously welcomed and accommodated by the Brothers community in Mount Hagen (located next to Holy Trinity Teachers College), our presence was observed by curious students who were playing sports. As soon as we placed our belongings in our rooms, we walked fearlessly to the School, where we familiarised ourselves with the environment and the people. This was repeated throughout our stay. This regular engagement resulted in mutual story-telling resulting in an understanding of each other's cultures and traditions.
On the Second Day, we wasted no time in venturing out to visit surrounding sites. Br Thomas, being a local from Mt Hagen, was our personal tour guide and ensured everything went smoothly. We visited different Churches, Provinces and also had the privilege of experiencing true village life when we visited Brother Thomas's village. Br Thomas's family prepared a traditional mumu (underground oven powered by flaming hot stones, which is then topped with locally grown vegetables and pork or lamb). This meal takes a large amount of preparation and cooking time, but the result was definitely worth the trouble - the food was delicious. (100 Thank-you' s to Br Thomas and his family for providing us with the opportunity to immerse in the true PNG culture and way of life.)
The next day, we visited fellow Lasallians, who work in Kondiu Rosary Secondary School and Holy Trinity Primary and Secondary School in the surrounding Provinces. It was great to see some familiar faces, who we had met the week before in Port Moresby at the National Lasallian Gathering (a gathering of Lasallians from all over the country).
On one of the evenings, we conducted a small session for a group of Lasallian students at Holy Trinity Teachers College, where we presented information on the Lasallian Mission and promoted the Lasallian Volunteer Program.
We squeezed about two weeks' worth of activities in the five days that we were in Mount Hagen, but I wouldn't change that for anything. It has been a highlight of my placement in Papua New Guinea, and I feel very blessed and privileged to be present through such a remarkable opportunity like this.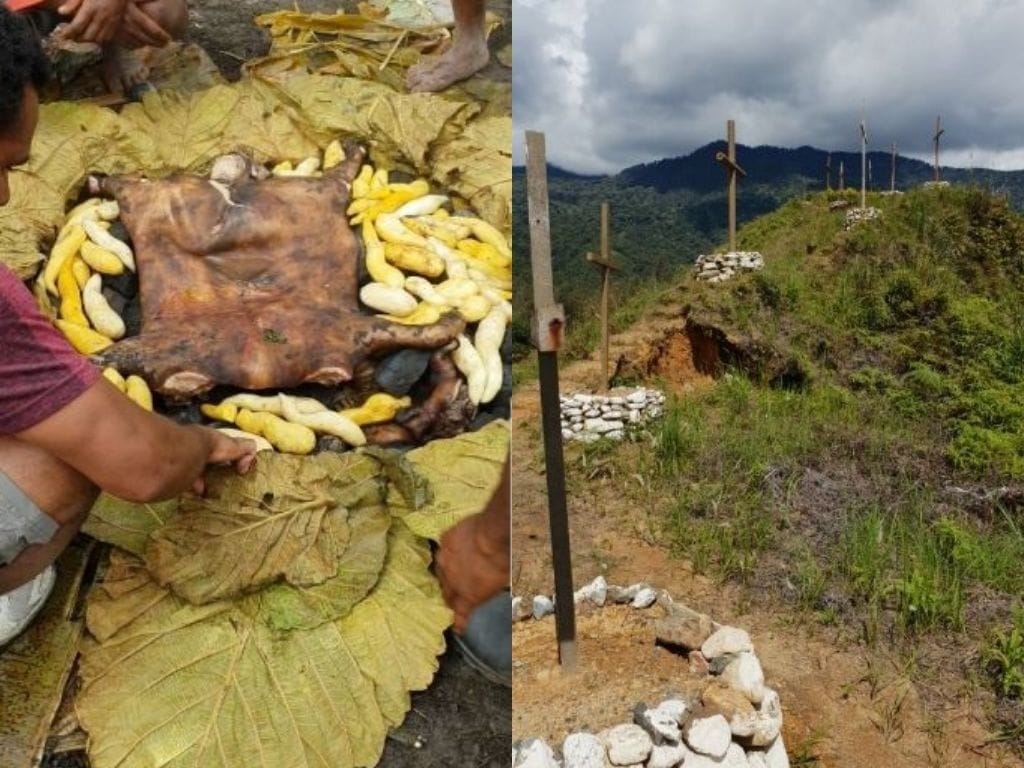 Left - Mumu which was prepared for us at Brother Thomas's Village
Right - A small stations of the crosswalk from a church in the Jiwaka province (felt like a mini-pilgrimage)