Posted by Br Gary Wison on 26 October 2020
"No", said Sr. Margaret Scott, of the Notre Dame de Mission order. She was urged, in March 2020, to leave South Sudan, by her brother working in New Zealand immigration. (The Government had ordered the closure of all schools because of COVID-19). " How dangerous is it anywhere?", she says, still serving as Principal of Yambio Teachers' College for the youth of the world's youngest nation. As the virus continues its march. "Solidarity with South Sudan" (SSS) is creatively using "Google Classroom" to keep educating some of their students. Sr. Margaret, Principal and pioneer from 2008, spells out current conditions:
The roads are pitiful. Movement across the country is mainly by air. At this time there are 500 trucks stuck on the road between Juba and Waul due to rain and poor road conditions. Apparently 75% of South Sudan is suffering from hunger. In this area people can cultivate, so are fortunate compared to their brothers and sisters in other parts.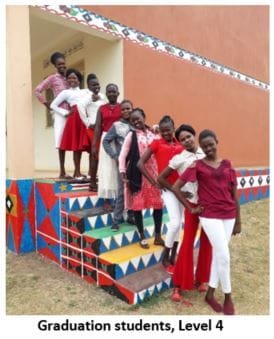 The history of the Solidarity mission began with religious sisters, brothers and priests at a Catholic Church Rome conference in 2004. Begun in 2008, it is a network of religious and lay missionaries that provides important health, agriculture and education agencies across several cities in South Sudan. Currently, 31 highly trained lay, religious and clerical people from 18 countries and 19 religious orders are empowering this small country's people. Its mission is "to create self-sustainableinstitutions and programs" in teacher training, nursing & mid-wifery and agricultural / pastoral enterprises all in the cause of empowerment and nation-building.
When the closure of institutions was announced, Sr. Margaret hurriedly organised the graduation of the Level 4 students, before the SSS chartered plane delivered students home on a round-the country trip. Allan Drummond, veteran ex-teacher of St. Bede's Mentone, teaching in Yambio, was pondering how to continue the training via remote learning. The initial idea was a clunky process: have students write their work in exercise books, photograph the work, send it to the staff, who photocopied it, marked it and sent them a photocopy in turn. Br. Chris, on the staff, drew attention to "Google Classroom", his specialty being IT. He is an Indian De La Salle Brother, and ex-Provincial of India. Initially, the staff were taught by him how to use the "Classroom". Some took to it quickly, while others opted for sending email Word documents.
The dispersed students ranging from 20 to 40 years old - coped variously, and the system has struggled, as Sr. Margaret points out:
Unfortunately, the internet has let us down as most of the students do not have adequate access. They are frustrated with it. Some may walk for miles to be in the right spot only to find there is no money left in the "bundle". South Sudan does not have infrastructure to support internet or phone services.
Allan, locked down in London, continues to 'teach' English to Level 1 and 2 students, and Religious Education to Level 3. The Google technological process limps along unfortunately, as he notes "due to three factors. Firstly, the internet is unreliable, even in larger urban centres, and many of our students in their home villages and in "Protection of Civilian" camps have limited access. Secondly, students can take selfies and send them, but are not skilled in other uses of smart phones. Lastly, there are not enough phones to go around. As well as that, many students, had to work as soon as they returned home, especially with the planting of crops. From the start, it was impossible to assign a date by which work would have to be finished. On the other hand, there are about a dozen students who are now miles ahead of their compatriots in the use of technology".
In terms of safety and danger, in Yambio, capital of Western Equatoria state, people do not know what the reality is with the virus, as there is no testing in the state, but mercifully few deaths. Solidarity members are taking precautions by wearing masks when in public, social distancing, and not going out unnecessarily. Some have been "locked down" since March, choosing to stay mainly within the beautiful compound. "Solidarity", as well as the Christian Brothers who run an HIV support organisation, are highly respected by the common people. Yambio, as Allan says, is "a relatively prosperous area, without the need to fight other tribes for cattle grazing areas, or to steal a few more cattle to raise a bride price. We had students from many tribes who took enthusiastically to my rewrite of the "Australian anthem", partly quoted:

Several Australian or New Zealand Brothers have offered their Lasallian service to SSS, including Br. Bill Firman for 10+ years, and Br. Denis Loft for 6 years. With them have been Lay Partners like Henry Corcoran and Mary Walkinshaw. Their commitment to the Gospel and the Church's mission could be summarised in Sr. Margaret's statement, in the face of COVID:
There really was no choice for me. This is the place I wanted to be, and the students and staff were too important to me to just go off and leave them". (Students) know Solidarity people are still here with them, and they appreciate that. Sending out little messages of support seems to help the students and they do know we care.