Posted by Mr Patrick Donnellan on 14 November 2016
In September this year I was fortunate enough to join the St Bedes' teachers and students on their volunteer trip to the De La Salle School in Sangkhlaburi in Thailand.I had heard of other volunteer trips where different organisations have given up their time to go overseas and help others in need. Being a Builder I have always wanted to use my skills for a good cause and help others. I have always thought of it as a genuine way to have a symbolic and physical impact that could have the potential to bring all kinds of different people together.
Initially the main challenge for me was leaving my wife and two daughters for over two weeks. Like most parents, the time you spend with your family is the time where you are most at peace. Not to mention the guilt I felt for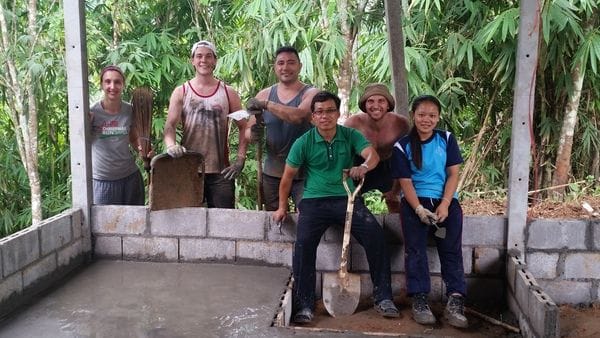 leaving my wife with all of the parental duties so I could selfishly pursue a life long goal. My wife, whose workload was about to be doubled by me going away, remained completely optimistic and supportive and without her support, I could not have embraced and enjoyed this life- changing experience like I did. In the lead up to the trip I had to keep reminding myself that in a year's time, the short time away from my family would be insignificant in the whole scheme of things.
When I jumped on the bus, ready to depart for the airport I was basically a stranger to the staff and students. The staff were so welcoming and inclusive and the students appeared to be totally open to this whole experience even though no one really knew what to expect. I instantly felt a part of the crew.
Once we had arrived at our home for the next two weeks I was keen to start building. I was there to get things done. I feel like my personality and patience would be a strength when we began building as I knew the resources were limited and the language barriers would throw up all kinds of problems. However, I had no idea how difficult this would in fact be. Throw in ten new apprentices (Students) for their first day of work and things got interesting. I initially viewed this trip as me leading a building team to build structures for the school. What I didn't realize was this would be the less significant role I would play.
On reflection, when we started to work as a team, building for the school, was when my admiration for the students began. I can honestly say there was not one student who didn't give 100% of what they were capable of. Observing them work, I felt a combination of being their friend and a parental figure, cautious of their feelings and how they were going about their jobs. As I was the 'new guy' I was the subject of the students' jokes and most of their daily banter. This enabled me to get to know the students better. As the days progressed I was so proud of the boys and their hard work. This was a true reflection of their kind hearted intentions of giving something back.
When we had breaks from the building site, we embarked on fun activities with the school kids and for me this is when the real fun started. I still cannot articulate how wonderful an experience this was. Perhaps it is a combination of how genuine and beautiful the souls of the orphans and teachers are, how happy they seemed to be without having much at all, how friendly and loving they are, or how brave they are to open themselves up to strangers without any reservations, knowing full well that they may not see many of us again after this experience.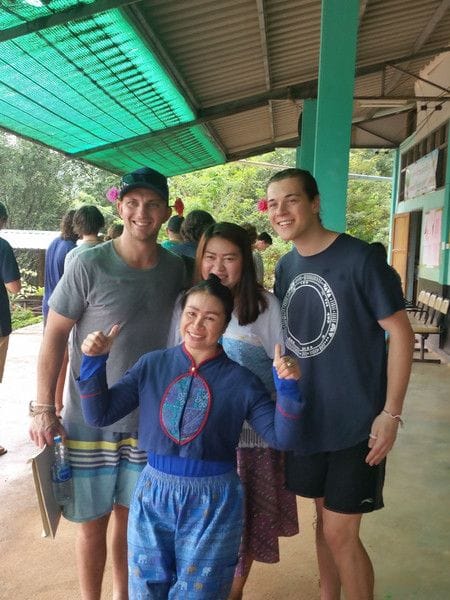 All of the St Bedes crew formed friendships with the children of the school. Most were lucky enough to build one or two extra special bonds. I was lucky enough to form a special bond with Wanepon, who is a beautiful 12 year old girl. Although we didn't speak the same language it didn't matter. Her kind soul, generosity and love of life were infectious. The trip brought many emotional ups and downs along the way. On one particular night I was missing my family terribly and also upset that I was about to leave all of these people behind, people I had genuinely made remarkable and everlasting relationships with. I found myself questioning the experience. Was the experience more beneficial for me or for them? These feelings were quickly put to the side as I witnessed the St Bede's staff and students experiencing the same questions/feelings. On our last night we had a beautiful ceremony to celebrate our trip. It was a therapeutic way of uniting the students of the school and the St Bede's crew for life. It also enabled us to say goodbye.
Now that we are home, I really hope the students of St Bede's know how truly proud I am of them. And if they ever needed anything from me all they need to do is ask. I miss their daily banter and know I have made everlasting friendships with the boys. When I ask myself who the experience benefited more..myself or the students of the De La Salle School, I am still unsure. If I was asked to do it again, I would do it in a heartbeat. If I was ever asked do I recommend this experience, I would say "If it does not challenge you, it won't change you and progress is impossible without change".
Thank you again to St Bede's College Principal Brother Garry Coyte for enabling me to fulfil a life long goal and be a part of this amazing and unique experience.