Posted by Br Gary Wilson FSC on 24 February 2021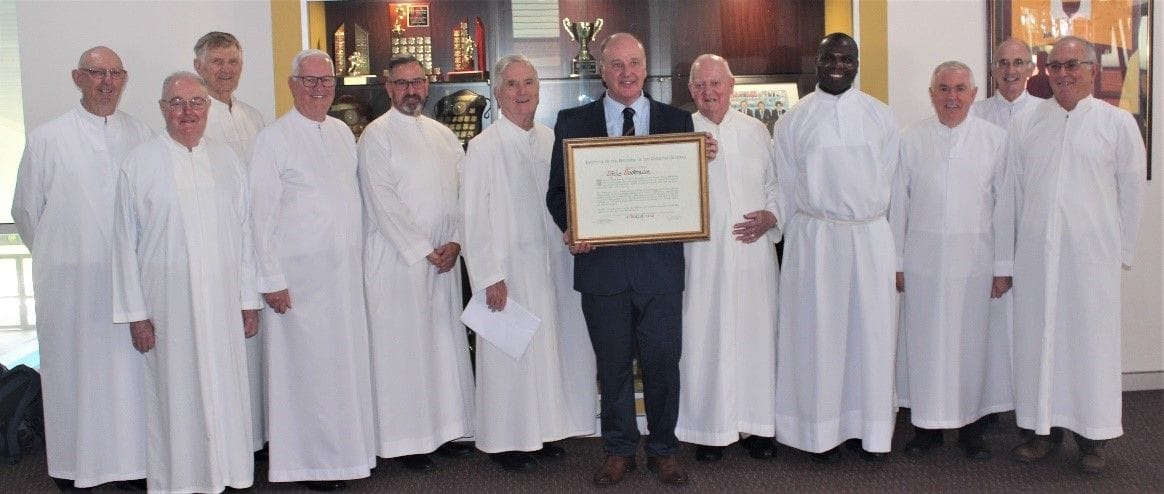 How to judge a truly authentic Lasallian educator? Many different ways perhaps. One measure is a formal 'Affiliation' the highest honour of the Brothers' Institute, and a recognition- as it were- of being esteemed affectionately as a 'brother'. Chris Goodman of Oakhill College, Castle Hill, NSW, was conferred Affiliation on Thursday 4 February 2021.
Fellow-teachers and the Brothers' Community have seen that, for over 24 years, Chris has imbibed the Lasallian spirit, and grown as a powerful Christian witness to a multitude of students and staff at Oakhill. His involvements and on-going commitments cover numerous fields. As an academic teacher over these years, he has been a Technology & Applied Studies faculty member, a Religion teacher, facilitator of junior and senior retreats, administrator, longtime sport coach, and a wide-ranging facilitator and leader in the College of many community service initiatives and programs.
In terms of Lasallian spirituality, Chris has been heavily committed to the District and our Lasallian Region. Having done professional in-service the Lasallian heritage short-course, and especially the international 3-year Buttimer Program in USA, he has had teachers' immersion in the wider Lasallian mission in Asia. With colleague Katrina Mann, he founded and has led the "Lasallians without Borders Team India / Philippines", from 2009-2020. The students make regular immersion /volunteer trips to marginalised Lasallian institutions in Asia. Linking up with the Lasallian Foundation, he has supported the "twinning" of Oakhill with the poorer Albans High School in Pakistan, raising funds via Founder's Day etc.. He was a delegate to the District Mission Assembly (2018).
At the local level, Chris has strongly influenced the post-school Lasallian Volunteers and the yearly Lasallian Youth Ministers in their formation, via the Team India/Philippines. As the Director of Mission for the College from 2017 to the present, he has also overseen the Lasallian Youth Leaders' Program, which includes many service and fund-raising projects for the local community, e.g. hampers for yourtown San Miguel, St. Vincent de Paul, and support for indigenous youth institutions & a local women's refuge.
Working with Lasallian Mission Services, Chris has helped facilitate junior Oakhill reflection days. He helps co-ordinate the weekly Chapel Masses. All of these roles make him a critical member of the 'Catholic Lasallian Policy Committee' of the school, and one who lives the Lasallian spirit of "Zeal"- a Lasallian who puts relationships front and central in his teaching and pastoral work.
Chris acknowledged being "humbled by this honour", speaking to the 1,800 students and 200 staff at the College's Commencement Mass:
"Our Lasallian world is a world that we should all be proud of. Being part of the Lasallian family, and its extended network, means that we share the same values of faith, service and community - values that make us closer to God values that should be the driving force in everything we say and in everything we do".
He thanked his extended Lasallian 'family'- his Oakhill colleagues and mentors- and various Brother Principals, Ms. Miranda Chow and Br. Paul Smith of the Lasallian Foundation, Brothers in Philippines & India, and Br. Finbar (RIP) of San Miguel, who have inspired him. For Chris, they have walked alongside him to teach and guide "our community; to make sure that every individual here can grow to be the best person that they can be". The students, he said, "constantly 'walk the talk' and rise to the occasion to make our world a better place through the many opportunities that we have, to give to others who are less fortunate".
The audience of 2,000 students and staff gave an ovation of several minutes that capped thee occasion.
For so many, Chris Goodman has embodied the Lasallian charism (the Spirit-gift to the Church), and its values and educational principles, whereby offering service, building relationships, and walking in faith, are a great privilege which does 'make a difference' to other peoples' lives.
Click HERE to read Chris' speech