Born to farming parents from Orange in central western New South Wales, Br Paschal Hagerty has some remarkable stories to share from over 65 years as a De La Salle Brother across Australia and New Zealand.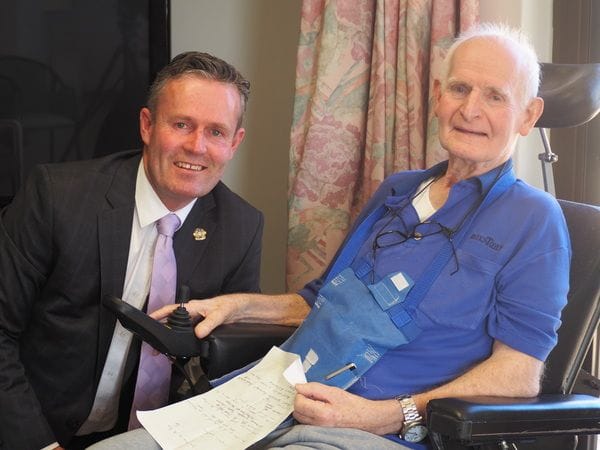 From coaching premiership-winning school rugby league teams in the 1960s through to supporting homeless families at the San Miguel centre in Sydney in more recent times, Br Paschal has touched generations of hearts and minds through his ministry.
Now aged in his 80s, he has never lost his profound faith and infectious sense of humour, despite battling the crippling illness, Motor Neurone Disease for a number of years.
From a TV room in the St Joseph's Nursing Home in Kensington in Sydney alongside his long-time friend and fellow Brother, Pat McCarthy and De La Salle College Ashfield Principal, Mr Stephen Kennaugh, Br Paschal reflects back on what initially led him towards his religious vocation.
"I went to De La Salle College in Dubbo as it was then known and I had a magnificent teacher in primary school, Br Pius Bardon who was an absolute gentleman", Br Paschal explained.
"And while I first entered the novitiate at the age of 13, I struggled with making a final commitment to religious life, probably until I was aged around 30".
"I almost walked away from a vocation then, but my older brother encouraged me to continue on and I also found my answer through prayer", he added.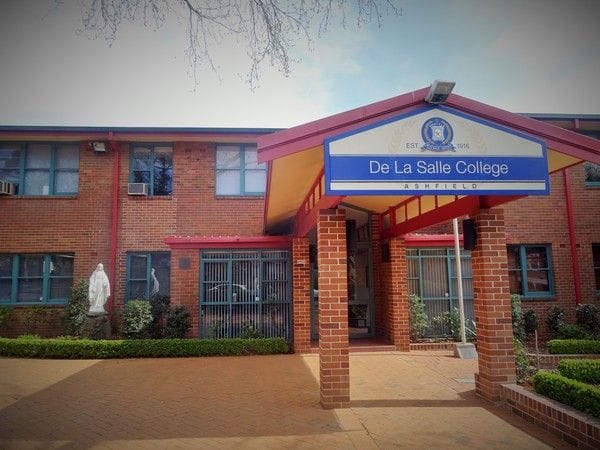 Br Paschal began his years as a De La Salle Brother in the familiar settings of Orange and Bathurst before moving to Sydney in the mid 1960s.
Some of his fondest memories from the classroom were in the three years he spent at De La Salle College Ashfield from 1964-1967.
"I used to take the detention class and it was through that work that I came to a deeper appreciation of what it meant to be like a big brother to the students", he explained.
"I'd clear all the bins around the school alongside the boys as we did all the rotten work together and the students responded really well to that sort of encouragement".
"I also had the great pleasure of coaching an amazing rugby league team at Ashfield that had never been beaten in 15 years!"
As the school celebrates its centenary this year, De La Salle College Ashfield Principal Mr Stephen Kennaugh has shared some of Br Paschal's reflections with the Year 12 graduating class.
Br Paschal went on to make a difference in the lives of countless students at Oakhill College in Sydney and Francis Douglas Memorial College in New Plymouth in New Zealand.
He spent a remarkable 13 years teaching at De La Salle College Malvern in the 1970s and 1980s and nine years at what was then known as Benilde College at Bankstown in the 1990s.
It was around this time that Br Paschal began working at the San Miguel home near Richmond.
The yourtown home has provided accommodation and support to generations of homeless families, including many women with children who have fled abusive partners.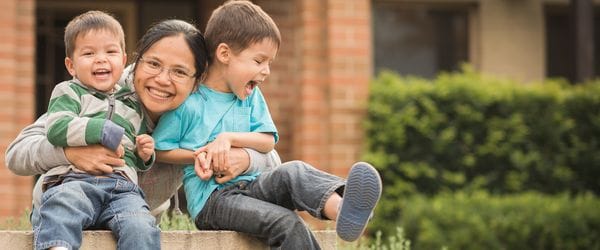 Br Paschal worked for nine years at San Miguel, offering comfort and support to countless disadvantaged families.
"I remember so vividly all these young children running up the driveway of the home to greet me with a big hug because they saw me as a grandfather figure when they had often had no father figure in their lives", Br Paschal explained.
"I soon realised that education extends well beyond the classroom and in many ways we were simply going back to the foundational work of St John Baptist de la Salle when he supported street children in Rheims".
As he reflects back on over six decades spent dedicated to serving the needs of the disadvantaged, Br Paschal concedes he could not have performed so much good work if he had not been blessed with a strong faith.
"Ultimately, it's about putting trust in our Lord and I am very fortunate to have been blessed with a resilient faith which has seen me through many personal challenges along the way".