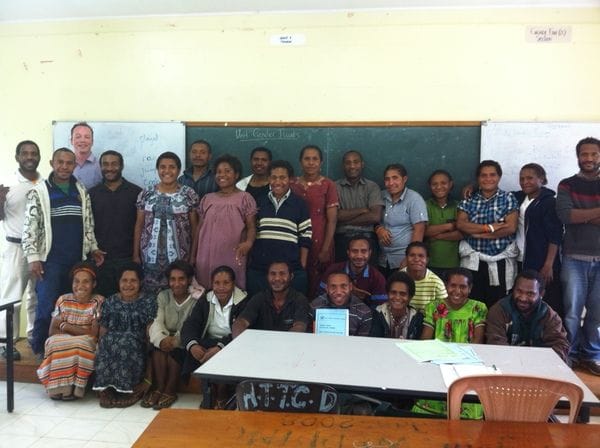 As a young student attending government schools in Papua New Guinea's remote Highlands region, Br Luke Warvanuk never imagined becoming a De La Salle Brother, promoting potential vocations across the country.
But his faith journey changed when he came under the influence of the Brothers during his years as a student at the Holy Trinity Teachers College in Mount Hagen.
"I greatly admired the work they were doing at the Teachers College, helping to train new teachers to work mainly in primary schools in some of the most remote parts of PNG", Br Luke explained.
After graduating from the teachers college, Br Luke initially worked as a teacher himself, but soon realised he had a stronger calling in life- to become a De La Salle Brother.
He undertook his novice training in the Philippines with one of his eight classmates being the current Lasallian Youth Minister for Pakistan, Br Rehman Javed.
Br Luke has been a Brother in active ministry now for four years and currently holds the position of Sector Director of Vocations for Papua New Guinea.
"I find it really rewarding being able to speak in the schools and teachers colleges about the work of the De La Salle Brothers and being in a position where I can help influence others and encourage them to consider a religious vocation", Br Luke said.
"There is so much potential here for vocations with such a vibrant Lasallian community across PNG".
The Mount Hagen-based Brother has a passionate commitment to addressing inequity in education in his home country.
"There is a genuine lack of resources in the more remote schools in PNG and we're trying to address that through Twinning programs across the District", he explains.
"It will allow Australian and New Zealand schools to share, not only financial resources but professional development and support to fellow Lasallian schools and teachers colleges in PNG".
Br Luke says he draws a lot of personal inspiration from the Papua New Guinean students and new graduates emerging from the Holy Trinity and Sacred Heart Teachers Colleges.
"They leave me very optimistic about the future direction of the Lasallian mission in PNG", he says.
"I have no doubt that great leaders are coming through these teacher colleges who will help to spread the Lasallian mission to some of the remotest provinces of our country".