Rome, July 15, 2018
Mrs. Heather Ruple Gilson and Brother Paco Chiva Co-secretaries for the Association.
We hope you are enjoying these reflections on Association for Mission and how Association is lived out in different parts of the Lasallian Family.
We offer these reflections in order to engage you in further dialogue and consideration about the role Association plays in our Lasallian Vocation and Mission.
In Rome at the beginning of June we had a meeting of CIAMEL (International Council of the Lasallian Mission). At this meeting Brother Paco met Rose Dala, an educator in Burkina Faso. While speaking about Association, she told him about an interesting project that they have started with mothers of students and women who are teachers at their schools. As a Lasallian Family we continue to celebrate the vital contributions women make to the Lasallian Mission. This project is a perfect example of the creativity, community, and collaboration Lasallian women bring to our Lasallian Family. Let us celebrate this initiative to foster Lasallian Association for Mission.

Here is how Rose describes the project: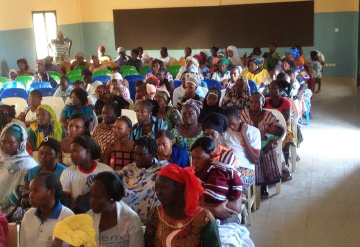 "The Association of Lasallian Mothers and Educators of the city of Ouagadougou in Burkina Faso, is made up of teachers, female staff and mothers of students from three Lasallian institutions of the capital. A training session with women from De La Salle (Sandogo) and La Salle (Badenya) was held on March 3 and April 21, 2018. These sessions brought together more than three hundred women under the theme: "In the whirlwind of family and socio professional life, what is the happy result?".
Three main points were addressed:
After describing the role of women, talking about skills and praising women's actions, the presenter urged the participants to become more involved in following their children so they can easily accompany them in their education. The presentation was followed by discussion and sharing concerns. There is a desire to bring together women from other Lasallian institutions in Burkina (teachers, staff and mothers of students) around The Association of Lasallian Mothers and Educators project. A second point, more specific, referred to the question of "early job hunting" of students before finishing their university studies. Due to the crisis in the public universities of the country marked by the sequence of white years or the large delays in the launching of university activities, many students feel increasingly discouraged and give up their university education and start looking for a job. This situation causes great concern for families.
At the end of the two training sessions, the women expressed their desire to join this new association." Text sent by Ms. Rose Dala
We would like to share with you these five ideas:
1. This initiative starts from the Lasallian mission. When the mission is lived with passion, it attracts other people to participate in the Lasallian charism.
2. If an activity Lasallians propose is at the service of people in need, a greater connection is established for everyone involved.
3. When people feel they are protagonists of the project or initiative, and they participate in the decisions and the approach, the project evolves stronger and tends to last longer.
4. All people need to feel a sense of belonging and recognition of others, as well as to have the opportunity to welcome and celebrate others.
5. If, in addition to the work involved in the Lasallian Mission, we offer space for community experiences and moments of spirituality, we move closer to Lasallian Association.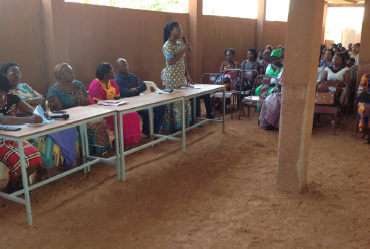 For further reflection:
a) How do you react to these statements? How do they affirm or challenge your experience?
b) What concrete experiences bring you closer to the Lasallian Association?
Please feel free to share your responses to this reflection with us or share other experiences and initiatives as the one featured here.
We wish you the very best.
Mrs. Heather Ruple Gilson and Brother Paco Chiva Co-secretaries for the Association.