Posted by Martin Callanan on 29 February 2016
The Auxiliary Bishop to the Southern Region of the Archdiocese of Melbourne, the Most Reverend Peter Elliott received a warm welcome during a visit to St James College, East Bentleigh last Friday.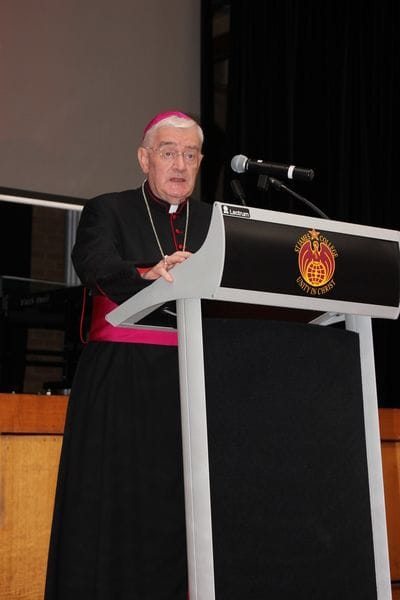 Bishop Elliott spent the afternoon in conversation with the Leadership Team of the College, enjoying a guided tour of the campus and then meeting with the College Student Leaders before making a short presentation at the whole school assembly later in the day.
On several occasions during his visit, the Bishop made reference to the outstanding work carried out at St James since the College opened its doors in 1970.
He acknowledged the dedicated contribution and guidance over a period of forty years from the De La Salle Brothers.
Bishop Elliott was delighted to learn of the continuing association of the College with its Lasallian charism and he reminisced fondly of his various associations with individual Brothers, many of whom are in residence at Mentone, over many years.
The Bishop also appreciated the ongoing leadership of its first lay principal, Mr Stephen Pooley and the College Leadership Team, in the sustained enhancement of the Catholic identity of the Year 7-10 College
In his chat to the College Leaders and later, the whole school assembly, Bishop Elliott recognised the many and varied cultural and ethnic backgrounds from which the students of St James College are drawn.
"Just as many young men from diverse backgrounds come together in unity at St James College, so it is with the Church that we gather as an inclusive group of people united by our faith", the Bishop told the students.
Bishop Elliott then invited questions from the assembled student body and a Year Eight student took the opportunity to ask, "What is the best part of being a Bishop?"
Bishop Elliott responded that of all his duties, he gained greatest pleasure in visiting parishes and schools and administering the Sacrament of Confirmation.
The Bishop was accompanied on his visit by the Parish Priest of Holy Trinity Parish and the Canonical Administrator of the College, Father Michael Sierakowski.