On the 16 April, three Cardinals, two Apostolic Nuncios and 60 Bishops, visited La Salle Technical College in Port Moresby in Papua New Guinea.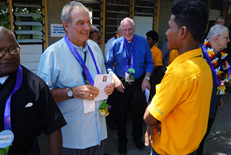 The Bishops were in PNG for the Federation of Catholic Bishops Conference of Oceania FCBCO, which focused on Human rights, climate change and environmental protection. Australian bishops joined more than 70 bishops from across Oceania for meetings held in Port Moresby during April 11-18.
There was much excitement among the staff and students, as an event of this scale is somewhat a rarity in the college. Several hours of preparation from the events committee and Principal Br Rick Gaffney went into ensuring that the visit was a success. Students did an excellent job welcoming the Bishops and introducing staff members while they toured the school.
The opening speech was presented by Br. Rick Gaffney, who thanked the FCBCO for visiting the school. "Your visit today is a great inspiration and show of support to our College community," said Br Rick.
The College community sang 'We Strive, Never Give Up', and Mr. Maia gave the opening prayer before Br. Rick gave a brief history about the school. Two of the college leaders addressed the guests, Lamasapom Eddie and Gorothy Turbarat. Lamasapom described the hardships that some students at La Salle Technical College faced living in settlements without power and in extreme poverty. "Despite these challenges we face as students, I still feel privileged to be a student here at La Salle Technical College, said Lamasapom.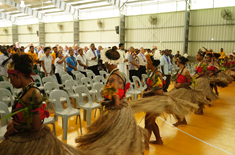 Fellow Student Leader, Gorothy Turbarat, gave her thanks for the opportunities the college offered. "La Salle Technical College provides us with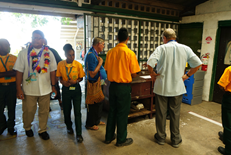 amazing opportunities to fulfill our hopes and dreams," said Gorothy.
Bishop Charles Drennan also addressed the College community, thanking the Brothers, staff and students for facilitating the visit and wished the students luck in their future employment endeavours. Mrs. Eko concluded the presentation with a closing prayer.
Accompanied by the Motu song, 'Emai Noi Noi', the group of Bishops were escorted back to the main yard where they received tours showcasing several of the trades offered at the College, seeing firsthand tourism/hospitality, office administration and electrotechnology, automotive, welding and carpentry. All the Bishops were quite impressed with the work of the students.
Five of the Bishops on the tour had attended Lasallian schools in their youth who many remain in contact with the De La Salle Brothers today. One Bishop was quite taken by the College motto, 'Enter to learn, leave to serve.'
Read more about the Bishops visit in PNG/ Cath News