Pope Francis has announced French De La Salle Brother, Solomon Le Clerq will be canonised in a ceremony in the Vatican on 16 October.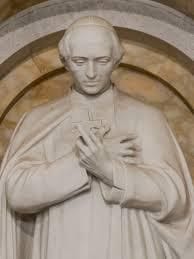 Blessed Solomon was recognised for his piety and deep prayer life while working for several years as a teacher in schools throughout France in the 18th century.
He held a number of key leadership roles, including Director of Novices for his community, Procurator at the Motherhouse and Secretary to the Superior General of the De La Salle Brothers.
Brother Solomon also provided strong spiritual advice and guidance to fellow De La Salle Brothers, while seeing first-hand the political turmoil, tearing France apart in the lead up the 1789 Revolution.
In the summer of 1792, Brother Solomon was among many priests and religious who were imprisoned and martyred as part of the suppression of Christianity during the French Revolution.
Like the Founder, St John Baptist de la Salle, Brother Solomon (born Nicholas Leclerq) renounced a life of privilege to pursue a religious vocation.
The son of a wealthy French wine merchant, his father wanted him to dedicate his life to the family business, but Nicholas discerned a call to religious life, entering the novitiate at the age of 22, taking the name Solomon.
Brother Solomon was beatified by Pope Pius XI in 1926, together with 188 fellow martyrs.
Brother Solomon was the first De La Salle Brother to be beatified and his feast day is celebrated on 2 September.
In March this year, a medical consultant from the Sacred Congregation for the Causes of Saints examined a case involving a miraculous cure which had been attributed to the intercession of Blessed Solomon.
It was the case of a Venezuelan girl who had been miraculously cured after having been bitten by a venomous snake.
The declaration of the miracle in this case has paved the way for the Canonisation of Brother Solomon on 16 October.