It is important for each generation to honour and celebrate those who have paved a rich path of tradition and faith to help towards the formation of the future. At Casimir Catholic College, we are blessed to have the benefit of three significant charisms to aid us in our prayer and faith development. The De La Salle Brothers ongoing commitment to the education of all young people, is guided by the life of St John Baptist de la Salle. The Sisters of the Good Samaritan, who have a special connection with the area and Australia; and the Passionist Fathers, who also support the College through their liturgical involvement in school celebrations at St Brigid's Church.
On Friday June 15, Bishop Umbers, an old boy of a De La Salle school, made a special visit to Casimir's Founder's Day activities and led mass with Father Erick Niyigaria. In his homily, Bishop Umbers reminded people about the true meaning of love and how it was more than just an overused word, that it was about living out that love, displaying it in our actions and celebrating the joy of friendships that hopefully will endure beyond school.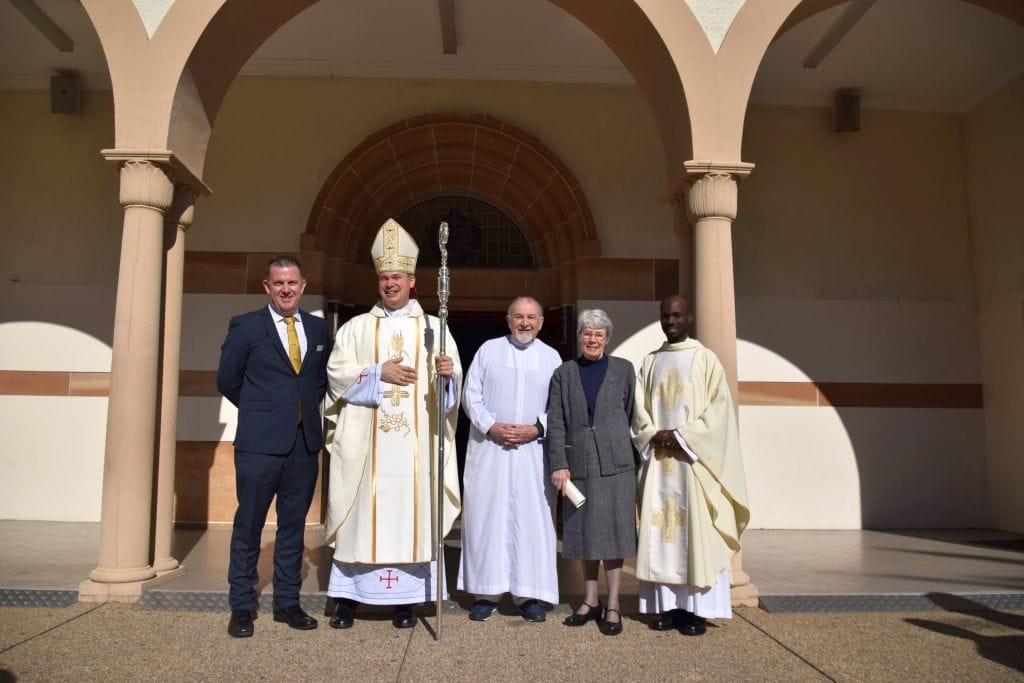 In attendance were special guests Sister Elizabeth Delaney, representing the Sisters of the Good Samaritan, a former old girl of St Brigid's, and Brother Colin Griffin, a former old boy of De La Salle Marrickville and founding Principal of Casimir Catholic College.
Mass was followed by a sensational day, with the school grounds transformed into a fair befitting the founders who have provided the solid foundations for Casimir's Catholic traditions. The air was filled with the smells of kebabs and sausages grilling, popcorn popping and fairy floss flying through the air thanks to the occasional gust of wind.
In addition to the gastronomic offerings, students were treated to a fun day with multiple rides and queues filled fast as 'Casimirians' enjoyed climbing walls and getting through obstacle courses while enjoying the sounds of the school 'DJ'.
The students were appreciative of the enormous efforts by all staff members who worked hard to ensure the day was a memorable one.
Two Year 12 students commented on how Founder's Day affected them this year:
"I'm thankful for our founders' as they have provided us with the spirit which underpins this school community that I get to experience each day, but much more vibrantly on Founder's Day," said Sara Fioretti.
"This happens to be our final year of Founders' Day celebrations, reflecting on Year 7 camp days and other significant moments over the years, I am able to see the growth and strength of friendships formed over the past six years at Casimir," said Hannah Carvajal.
The day was complete with a lively concert where Casimir showcased the musical talents of both students and staff alike. The final two acts were special, with Year 12 cohorts displaying their multiple talents and sharing the limelight with Father Erick, who delighted students, staff and parents with his talented rendition of "Man's not Hot". His dancing, good spirits and great sense of fun concluded the celebrations.
Everyone will look back on the celebratory day with great fondness and appreciation, not only for the fun and food, but also for the opportunity to take a day out of ordinary lives to enjoy a liturgical celebration, and reflect on the gratuity, passion and personal relationships that our founders' have instilled as core values, and in the words of St John Baptist De La Salle, continue to "touch hearts."
Mrs Irene Lambrinos
Casmir Catholic College