From the Principal Peter Houlihan
De La Salle College Malvern
On the afternoon of Wednesday 21 March we gathered as a staff, complemented by several visiting De La Salle Brothers, to acknowledge and celebrate Br Julian Watson's 80 years of service for the Human and Christian Education of young people.
---
In the contemporary world where our graduating students entering the workforce can expect to change careers multiple times in their working life and indeed be employed in roles not even yet invented, 80 years of committed service to the one organisation is a sobering thought. It is also a record and an achievement worth celebrating, if we may indulge ourselves for a moment in a fondness for memories of a bygone era of perhaps less complicated times. In this week's Duce I would like to relate a little of Br Julian's career and achievements which were shared with the staff at the afternoon tea on Wednesday.
Keith James Watson was born on 8 January 1922 in East Melbourne, second eldest of four children. The De La Salle Brothers at St Ignatius School in Richmond educated Keith, before he entered the Brothers Novitiate at Castle Hill, Sydney on 21 January 1938. Two months later on 18 March, Keith took the habit of the De La Salle Brothers and proudly adopted the new name Br Julian Bernard.
A stellar teaching and leadership career ensued, highlighted by a powerful and broad reaching influence on many thousands of students and a variety of De La Salle Colleges around eastern Australia and New Zealand.
In 1940, Br Julian began work at De La Salle College, Marrickville, and throughout the 1940's he made significant contributions at De La Salle College, Orange and De La Salle College, Cronulla.
Moving back to his native Melbourne in February 1947, Br Julian arrived here at De La Salle College, Malvern. In an environment that would challenge many of us, Julian taught his younger brother, Ray in the Year 8 scholarship class. Despite fabled stories of forged notes from home in relation to failure to complete homework, both Ray and Br Julian survived the experience and Br Julian taught the scholarship class of Year 8 students for three years. While he was a Humanities and RE specialist, Br Julian reckons he taught "pretty much everything" in his career.
Many Australian and New Zealand Brothers credit Br Julian with being a genuine pioneer as he was primarily responsible for the successful establishment of three De La Salle Colleges for our Kiwi colleagues.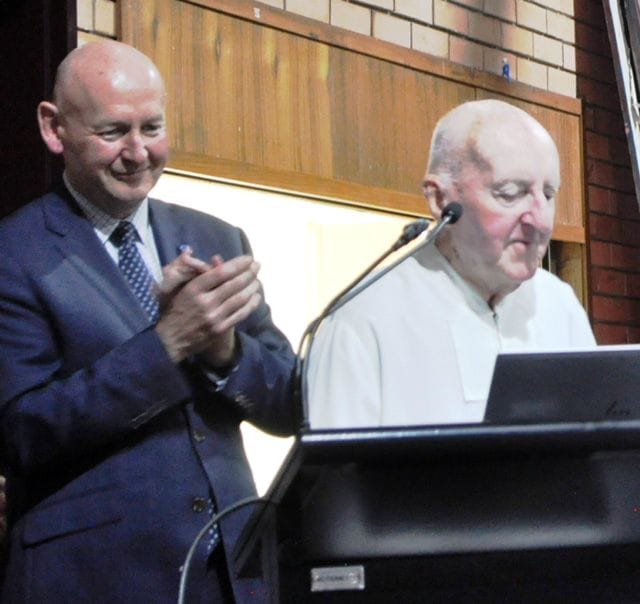 In 1953, Br Julian became Principal and Director at St Mary's School, Blenheim in the South Island of New Zealand, the first Lasallian School in New Zealand. He would later move to Auckland and take on the roles of Principal and Director at De La Salle College, Mangere East. Ever the expansionist visionary, Br Julian then became Principal and Director of Francis Douglas College at New Plymouth, a role in which he served with distinction for 10 years.
Br Julian then returned to Australia where he worked at De La Salle College, Scarborough, in southern Queensland. It was then back to his beloved Malvern from 1978 1987 where he operated as a teacher and Community Director. Br Julian's skills were sought after in a range of spheres and in another interlude he found himself at Mentone as Director of five young Brothers in formation.
The beginning of 1989 saw Br Julian return to Malvern where he served as Deputy Principal and Community Director until 1993. In 1994 he was Assistant to Br David Hawke in the care of elderly Brothers during Br David's first term as Provincial, before retirement and living in the Malvern community, where he remains today, remarkably fit and well at age 96.
After the formalities and cutting of the celebratory cake, Br Julian spoke to the staff and guests. It was terrific to hear a man of such an impeccable career of service, dedication, faith and leadership reflect so humbly. Julian wondered if it was really him we were speaking about when listening to his record built up over eight decades!
All present were thrilled and grateful to hear his heartfelt words of the support, camaraderie and sense of community he has experienced in his many years here at De La Salle, Malvern. Generations of terrific young men to work with, coming from wonderful families and supported by a great staff have been Julian's key reflections of his time in and around our College. I was very pleased to assure him those qualities he referred to in relation to our students, families and staff all remain very much present in 2018.
We are blessed to work and learn in such a positive environment and we are blessed to have the experience and contribution of a wonderful man like Br Julian Watson. Given his health and positivity we're sure Br Julian will be around Malvern for a good while yet!
Peter Houlihan
Principal
De La Salle College Malvern - Newsletter