Posted by Br Gary Wison on 22 June 2021

Australia, the Land of the Southern Cross, is a huge country, but it values community even over vast distances. Huge is the Catholic and Lasallian-associated school, Southern Cross Catholic College Scarborough (SSCC). It operates on the Redcliffe peninsula, on the outskirts of Brisbane. June 4 this year saw the celebration of its multiple traditions, embedded in four extraordinary Christians who established Catholic schools in Queensland.
Each year, on or near the solemnity of Mary, Help of Christians, Southern Cross Catholic College has its 'Patron's Day'. It is an important day, as the one occasion in the year when the Primary campuses at Woody Point, Kippa Ring and Scarborough join with the Scarborough Secondary campus for festivities. The older students adopt the ethos of being 'big brothers and sisters' to the younger cohorts.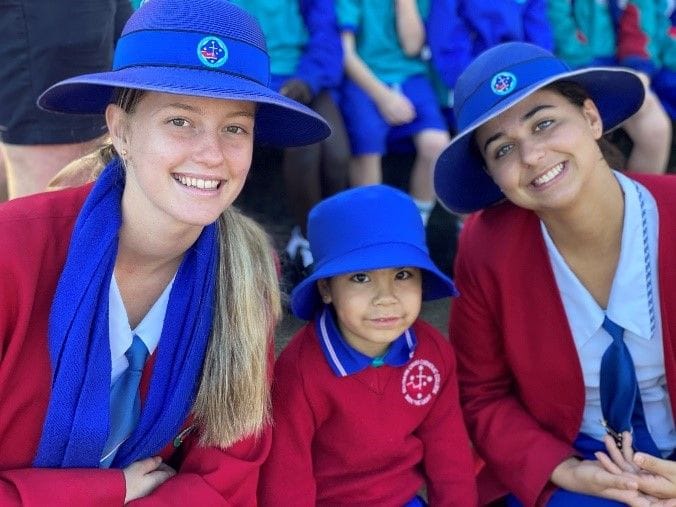 It began, as usual, with the total community Mass. Including students, staff and parents, there were nearly 2000 people in attendance at the liturgy. Then came the dynamics of building community further. Majella Thompson, SSCC Communications, describes the energy and downright fun of the day:
"Prep to Year 3 (classes)... took part in fun games on the oval, including building sand-castles with some specially-delivered sand. Years 4-12 took part in the 'De La Dash' a fun run around the secondary campus. Years 4-6 then took part in a dancing competition and the Secondary Campus got involved in the legendary 'High Beam' talent show where House competed against House to win the overall 'Patron's Day Cup' (points were gained for participation, by coming a place in the 'De La Dash' and participation in 'High Beam'). The winning house this year was Delany".
The four 'traditions' which are reflected in the four Houses show the origins of Catholic education, Redcliffe style. A true legend in Scarborough was Monsignor Bart Frawley (1904 - 2002), Parish Priest, who invited the first De La Salle Brothers to come to his parish in 1955, supporting the three Brothers financially in a generous way (He became an Affiliated Member of the Brothers' Institute). Eighty-two boys were taught in a reconditioned army hut that year. The second 'founder' and charism was thus St. John Baptist de La Salle. The third was the Brigidine Sisters' founder, Irish Bishop Daniel Delaney, whose sisters conducted secondary Soubirous College. The last founder was Australia's St. Mary MacKillop whose Josephite Sisters taught in the primary schools on the peninsula.
Mr. Chris Campbell, the Principal commented:
"Patron's Day is a day to celebrate our history and our present. We unite to reflect on our Patron, Mary Help of Christians, the Mother of the Catholic community in Australia, and our four founders. We also reflect on our theme for the year 'You are part of the miracle'. We are all a part of the miracle of Southern Cross Catholic College."