Posted by Br Gary Wilson FSC on 2 April 2021
Kenneth Gavin was born into a Catholic family of seven children in 1931, in Dulwich Hill. His father knew horses well, and with the Australian Depression in full bore worked selling vegetables to the markets. He attended De La Salle College Marrickville and was dux of Third Year, before deciding to try out the Brothers' way of life, as a religious teacher. At ninety years of age this February 22, living in the Cronulla Brothers' community, he still focusses on the well-being of others.
Brother Celestine, as he became in 1947, was appointed after his religious training to Malvern De La Salle in 1951. After his eight years in Victoria, teaching and also gaining his B.A. at Melbourne University, he was asked to become the second-in-charge of the Brothers' Novitiate (spiritual training years) in 1959-60. Br. Maurice who has lived with him over 20-odd years says: Br. Celestine, "is a deeply spiritual and prayerful personever ready to serve the needs of others". Several others remember him then as having a fine concise mind, that homed in on the essentials of a topic.
Teaching at various Lasallian colleges, he was seen to be skilled to the extent of being appointed Principal of the small senior De La Salle Cronulla from 1966 till 1973. A leader at 35 years of age of a senior boys' school, entering a new educational era with the Wyndham Scheme, spoke of his calibre. In 1968, he, with three other younger Brothers, were sent to the Brothers' central formation course (C.I.L.) in Rome, as the De La Salle Institute learnt about the renewal and change that came with the Vatican II Council. His talents were confirmed with two further years as Novice Master. His strong sense of human dignity and freedom was important in inducting new young men in the Order. "He lives his faith by example" is a further comment by a Brother; he could relate, and regularly see, the positive in people- never disparaging others.
With his ready acceptance to do whatever he was asked, over his 20 middle years in religious life, Celestine took on stints of a few years at six different Lasallian schools, some jobs that others preferred not to. As he himself says: you would "take things as they came(doing) whatever was asked of you". Benilde Senior High School Bankstown and Cronulla (again) were very enjoyable teaching years. Not flamboyant as a teacher, he taught over the years many subjects, with a special love for language courses. His status among the Brothers was such that he was elected to District chapters and chosen to be on the Visitor's Council.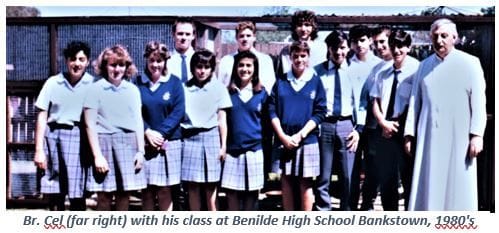 In his teaching, Br. Celestine could challenge older students intellectually, while being very concerned for the lesser-gifted. One instance of Celestine's concern for the disadvantaged was the project, initiated by some women in the Cronulla parish to provide help to the Sisters of Charity who had just established a ministry in far-western New South wales, at Bourke. Four or five times he drove out there with clothing and other goods to assist their work for the very poor. At one stage of his career, he expanded his mastery of Italian in order to teach a solo enrolled student at Benilde High.
Cronulla De La Salle became his base of ministry in 1994 until the present. Teaching, especially three languages-Latin, French and Italian, as well as administration absorbed him well into his seventies. His delight in Italian led him in more recent years to pursue a diploma and then a B.A. (Hons.), studying the religious poetry of a medieval Franciscan priest. He was encouraged to work towards a Ph.D. This activity was supplemented with the role of Director of the Brothers' community for many years.
Celestine led a peaceful and harmonious community; he was non-intrusive, and treated his Brothers as mature religious, as related by two of the Brothers. He quietly committed to solid manual work, scrubbing out the kitchen weekly, and buying groceries etc. for 6-7 others. This suited his personality quietly and simply living the Christian life in a striking way - "getting to the heart of things" quotes Br. Quentin, who lived with him. As Celestine himself says; "you try to oblige and not make people stress". This, perhaps, is the secret to his benign, unpretentious and fruitful influence over so many people , in his 74 years of living as a De La Salle Brother for others.