St John's Regional College, Dandenong was packed to the rafters on the evening of 14 February, when Archbishop Denis Hart concelebrated the Commissioning Mass of Mr. Tim Hogan.
Accompanied by nine brother Priests, one of whom was Mr Hogan's brother, Archbishop Hart led the College community in formally commissioning the College's new Principal.
Tim noted, "It's always a wonderful time when people gather together in a spirit of hope. It's even more wonderful when those gathered do so around the table of the Eucharist to celebrate a new school year and to commission a new Principal.
Our College community will reflect upon our theme during the year, 'In Joyful Hope."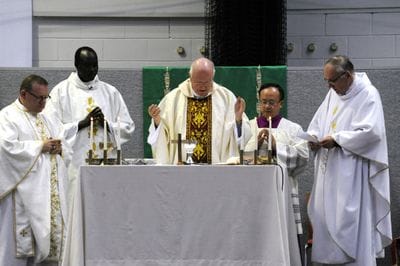 It truly was a wonderful community celebration and Tim and his family were very appreciative of the large congregation which honoured him through its attendance.
"Having so many representatives present from the wider Catholic School Community attend reiterated the face we are never alone in educating our students. It also gave me a sense of the importance of tradition and charism of the College", noted Tim.
The Lasallian presence was well represented including a significant number of De la Salle Brothers and Mr Merv McCormack, Executive Director of the Lasallian Mission Council.