Posted by Mr S Long on 25 October 2019
The 2019 NAPLAN results were released last week and, once again, there is much to celebrate for De La Salle Ashfield Year 7 and 9 students. For the second year in a row, De La Salle students have been able to achieve a higher rate of growth across all domains (writing, reading, numeracy, spelling, punctuation and grammar) compared to state averages and averages of students at statistically similar schools across the country.
Whilst there are some impressive individual results that stand out, what is most impressive is the collective growth of our Year 7 and 9 cohorts that really cause for celebration. Graph 1 below demonstrates the growth that the Year 9 cohort experienced between Year 7 and 9 in writing, reading, spelling, numeracy, grammar and punctuation, in comparison to all other schools in the state, and to statistically similar schools across the country. The second graph shows that our Year 7 cohort is also growing above expectation across all domains. These results highlight that our differentiated approach to learning at De La Salle ensures that our students at De La Salle Ashfield are growing above expectation in comparison to similar students across the country.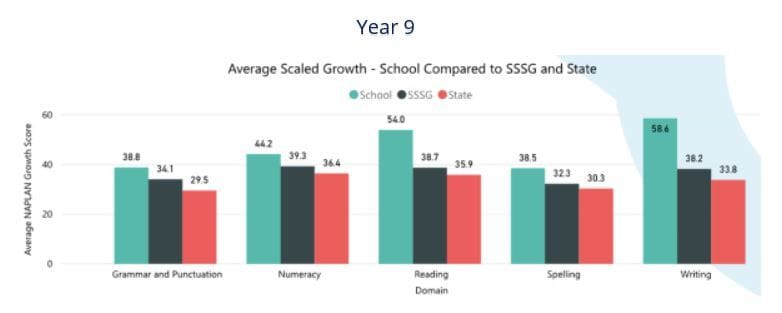 Results like this do not happen by accident. They are a culmination of dedication and commitment from our students and their teachers to ensure that each student is growing and progressing by maximising every minute of every lesson, every day. These results are a reflection of our students living the school motto 'Esto Vir'. Congratulations to all students involved!