Year 10 History students from De La Salle College Malvern have marched alongside students from Jewish and Islamic schools in a powerful display of interfaith harmony during Reconciliation Week in Melbourne.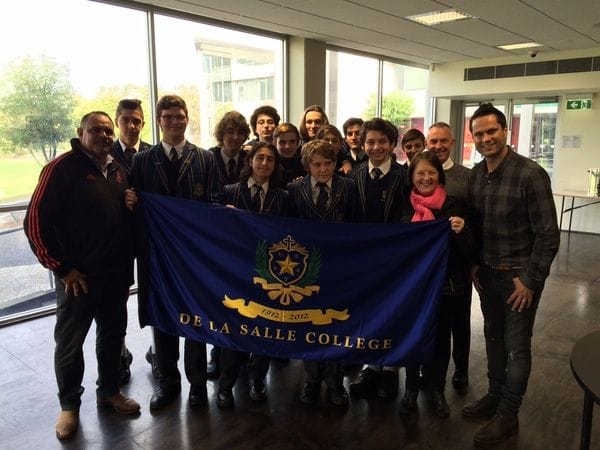 The Traditional Long Walk Re-Enactment is named in honour of former Essendon footballer Michael Long who walked from Melbourne to Canberra in 2004 to discuss Indigenous issues with former Prime Minister John Howard.
Michael Long's walk for reconciliation was so successful that it has now become an annual event, although on a much smaller scale around the suburbs of Melbourne.
Long joined with fellow Essendon great Gavin Wanganeen in this year's walk, alongside three thousand school students and representatives from community organisations such as Caritas and Aboriginal Catholic ministry.
At the conclusion of the walk, the two Indigenous footballers spoke to the students about the importance of reconciliation, tolerance and respect.
De La Salle College Malvern Principal, Mr Peter Houlihan said he was proud of the students who joined in the event.
"There are some clear links to our Lasallian ethos in relation to respect, justice, love, peace and hope", Mr Houlihan said.
"One of the five core principles of Lasallian education we are actively promoting this year is 'An Inclusive Community' and greater education and understanding around reconciliation will benefit us all", he added.
Neighbouring primary and secondary schools joined in the Reconciliation Walk, including students and staff from Minaret Islamic College and Mount Scopus Jewish College.
It was also a practical way for students to put the lessons learned in their Australian history classes around Indigenous reconciliation into practice.
One of the Year 10 students, Daniel Papalia said it was a great learning experience for everyone involved.
"It helped us to acknowledge the Stolen Generations, to reconcile the past and create a society free from discrimination", he said.
"We felt proud to represent the college as students concerned for our fellow marginalised Australians".