Student leaders from De La Salle College Revesby have played a major part in a special Mothers Day Mass over the weekend at St Patrick's Church, directly next to their school.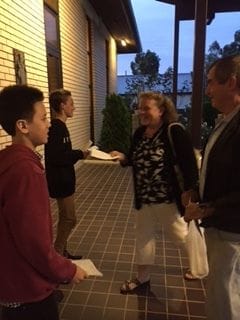 The student leaders provided hospitality in welcoming parishioners and escorting them to their seats at the Vigil Mass.
They also took active roles in ministry as lectors, leading Prayers of Intercession, as Extraordinary Ministers of Holy Communion and bringing forth the Offertory Gifts.
The Mothers Day Mass is one of ten masses led by the student leaders at De La Salle Revesby every year which also include Father's Day in September and St Patrick's Day in March.
"It's helped to build stronger connections between the school and the parish", explains Religious Education Coordinator, Marg Marriott.
"It also helps to train up the students to undertake ministries in their own parishes which then ties in with their Christian Mission Program, under which they are required to undertake 20 hours of community service", Mrs Marriott adds.
At the Mothers' Day Mass, the student leaders presented the mothers and grandmothers with a personal gift as a sign of their appreciation.
Year 7 students at De La Salle College Revesby also hosted a Mothers' Day Mass and Morning Tea last Wednesday at St Patrick's Church.
It was a special opportunity for the students to celebrate their love and gratitude for their mothers at a mass which was especially dedicated to Mary Mother of God.