De La Salle Brothers from Australia, the Philippines and Pakistan have joined with youth ministers in a powerful discussion around what it means to live out a Lasallian vocation in today's world.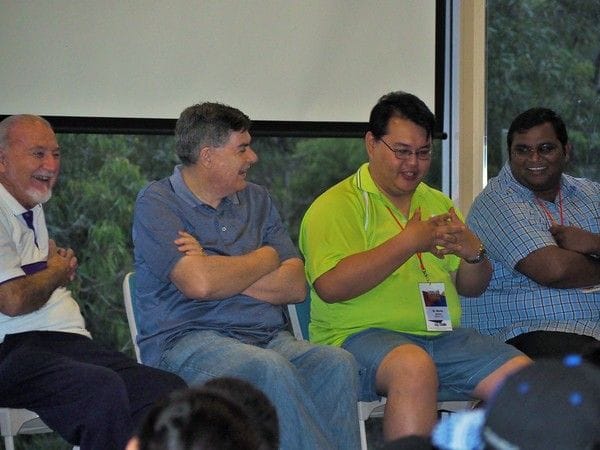 Senior students from Lasallian schools across New Zealand, Australia and Papua New Guinea were able to ask questions of the panel members as they reflected upon the personal challenges they have faced living out their vocation in their daily lives.
The forum has been a major highlight of the annual Lasallian Student Leadership Seminar in Sydney which brings together senior secondary students from across our District in January who are preparing to take up leadership roles in their schools this year.
On his first ever visit to Australia, the Lasallian Youth Minister for Pakistan, Br Rehman Javed reflected upon the great satisfaction he has gained through serving the marginalised and disadvantaged.
"I was inspired by the work of the De La Salle Brothers who educated me in Khushpur and it was through the support of our Auxiliary Visitor Br Shahzad Gill that I came to appreciate my vocation- to serve the poor and educate the students under my care", Br Rehman explained to the senior students.
Philippines-born Br Mandy Dujunco shared how he had been moved to give up a career in a family business in Manila to pursue a more spiritual life.
He said the life of a De La Salle Brother can be challenging, but also incredibly rewarding through being able to provide pastoral support to those in greatest need.
"As a school principal in a small town in the Philippines, I once wrote to students and parents, urging them to provide support to a 14 year old girl at the school who was pregnant and being subjected to gossip and discrimination at the time"", he explained.
"And I drew upon the example of Mary, the Mother of God who gave birth at the same age and had to also contend with discrimination".
Brother Paul Rogers shared some moving personal experiences with the students, especially around the challenges involved in providing support to families affected by personal tragedies.
"When I was Principal of St Michael's College in Adelaide, I was asked to give the homily at the funeral of a young boy killed in a car accident and I knew the family well, including his younger brother", Br Paul explained.
"It's natural for us all to question what life is about, when young people die in accidents like that or from incurable diseases, but being there to support families through those incredibly challenging times can be a rewarding part of our vocation as De La Salle Brothers".
Fellow Brother Colin Griffin also spoke about the personal grief he has shared with families who have lost students through illness and fatal accidents.
"As a teacher and principal, you often form a strong friendship with school families and you then need to be able to draw upon your own faith to provide you with the personal strength to offer them pastoral support through those difficult times too", he explained.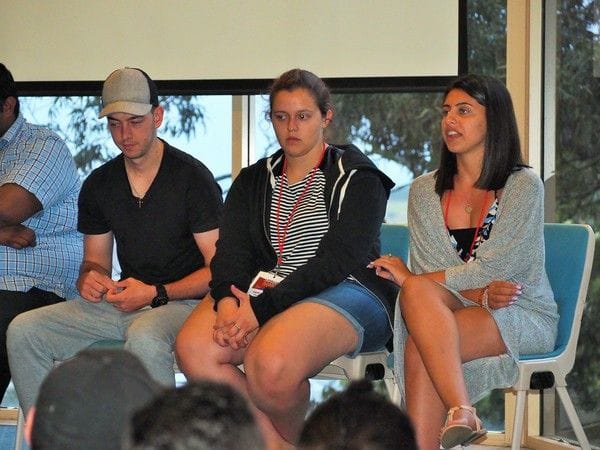 Youth Minister from St Michael's College Calia Sandona spoke about her journey as a Lasallian and the life-changing experiences she had as a Share the Mission volunteer, providing support to mainly Indigenous students from remote communities through La Salle College in Perth.
"That experience led me to want to put those same Lasallian values into practice as I began my university studies to qualify as a youth and community worker, serving the marginalised and becoming an advocate for the disadvantaged in my professional life as well", Calia told the students.
Youth Minister at De La Salle College Revesby in Sydney, Joanne Doueihi said she is looking forward to being a powerful advocate for the disadvantaged through a career in law.
"It's ultimately most important to follow your personal vocation though and not be afraid to change your direction and career path if you feel you are being called to do that", Joanne said.
Another member of the panel, Assistant Youth Ministry Coordinator Jordan Bottalico agreed that was sensible advice.
"As a young adult, you may not make the correct decision the first time with your choice of career or your vocation, but we all learn from our experiences and that can ultimately prepare us more effectively for the next step along that journey which we shouldn't be afraid to take".