Posted by Mr Kane Raukura, Science Head (edited) on 9 September 2021
'Teaching Minds, Touching Hearts, Transforming Lives' of students are all a part of the Lasallian 'Special Character' of Mangere De La Salle, says Kane Raukura. Educating the faculty's learners to be "future protectors of the environment and our beautiful country" involves a very practical focus in laboratory work, and much expanded field tripping at all age levels.
Opportunities to learn in the wider community and environs include Year 7 and 8 to Motat, the Zoo, the Museum and the Planetarium. Year 9 go on volcanic expeditions and participate in BP Technology Challenges in the park. Year 10 students are involved with Auckland Council and sustainability projects. Year 11 attend Allied Health Days and Expo's. Year 12 go to Shakespeare's Regional Park, and Year 13 to the Zoo, the Liggins Institute and the Waihi Gold Mine. There is involvement in Science Sizzler Days and MAD Marine.
A College EnviroCouncil with over 30 student members, in conjunction with teachers and the wider community, run several substantial projects within the school, including:
The Maori Medicinal Garden (Rongoa)
Our Stream Our Taonga Project
Riparian Repair
Stream Health Monitoring Data Collection to Auckland Council
Native Tree-Planting on school grounds, working with Trees-that-Count, Project Crimson and the Tindall Foundation (3,500 planted to date!)
The Sustainability Garden (worm farm and plant propagation)
The plethora of projects include full-school waste audits, energy usage monitoring, and carbon dioxide level monitoring in classrooms.
Mr Raukura is currently the Chemistry Content Specialist on STEM Online NZ, and is keenly aware of the importance of STEM careers for NZ students and the future of Aotearoa. "Writing the material for STEM Online has been extremely rewarding". However, Kane says that the journey is far from over.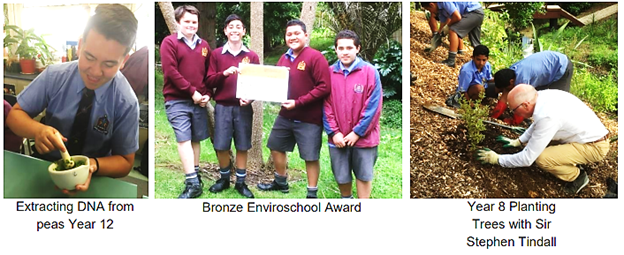 "By engaging students in projects like the Rongoa Garden, and Our Stream Our Taonga (Treasure) we have created a personal investment that breeds enthusiasm, connection to their own land, and a feeling of care that cannot be removed".
"We continue to strive to find new experiences and opportunities for the young men in our care. The academic results of the faculty are of an exceptional calibre for our particular demographic and socioeconomic area, with year-on-year strong examination results, student scholarships, and nearly 100% of graduates bound for university level study."