Primary and secondary schools in some of the most remote areas of Papua New Guinea are embracing the Lasallian charism though an innovative project which started last year.
The Lasalle Remote Schools Support Service (LRSS) was only established in August 2015 and yet it has greatly enhanced the support available for teachers in the remote provinces of East Sepik and New Britain.
A driving force behind the project has been Schola Manembe who has taught for 32 years with most of her career spent at St Mary's School in Wewak.
Schola retired from classroom teaching in 2012, but she embraced a new challenge when the La Salle National Office in Mount Hagen advertised a position of Project Officer for the new Remote Schools Support Service.
Schola saw a lot of potential in using smartphone technology to share resources with teachers in remote areas, especially through the social networking site, What's App.
The Holy Trinity Teachers College in Mount Hagen has also helped run workshops for teachers from the remote provinces, equipping them with the skills to send and receive email and surf the internet to access classroom resources.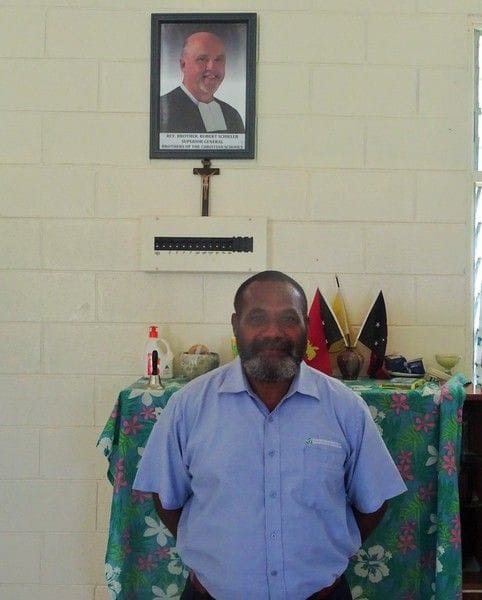 "A growing number of schools in the remote parts of PNG are wanting to join the Lasallian family and so we've started to run formation programs too to help introduce them to Lasallian concepts in education", Schola explains.
Schola is working with a number of principals to help expand the Lasallian mission, including Aloysius Jalapuin, the Principal of Ibab Primary School and Lasallian Family Area Coordinator for East Sepik Province.
"The use of the smartphone technology has really helped us get around the challenges we face because of electricity cuts, for example", Aloysius said.
The Deputy Principal of Holy Trinity Teachers College, Elizabeth Oga says the project is having a fundamental impact in many remote classrooms.
"It's time consuming, but really rewarding work being able to get the resources to where they're needed and ensuring that everyone can benefit from the Lasallian charism, no matter where they are in the country", she said.
The Papua New Guinea Mission Action Committee which was established late last year has also focused a lot of its efforts on promoting the reach of the Lasallian mission well beyond Port Moresby and the Highlands regions.
To achieve that goal, it has brought together representatives from the remote areas of PNG, including from Momase, the New Guinea Islands and the Southern Region.
It has also received critical support in this effort from the National Catholic Education Office, particularly from key officials in some of the more remote parts of PNG.
The Secretary for Catholic Education in the Kimbe Diocese in New Britain Province, John Silpaga is a member of the PNG Mission Action Committee.
"We are bringing the Lasallian Mission to remote areas who have never heard of John Baptist de la Salle before, but they are closely identifying with his core values and what he stood for", John explains.
"We're also focusing on encouraging more teachers and teaching graduates to work in these schools who may have been reluctant before because of their remoteness and that's been a very rewarding part of the work as well".