The Principal of De La Salle College Ashfield Mr Stephen Kennaugh says students and staff at the Sydney school will benefit greatly through closer links with De La Salle College Toronto and a number of other schools in Canada.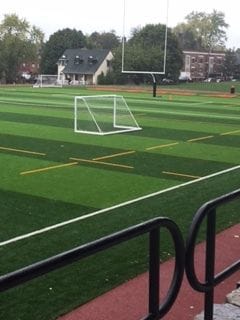 Mr Kennaugh recently returned from a visit to the Canadian province of Ontario during the Australian spring holidays where he visited a number of schools, taught lessons on student leadership and visited the offices of the Ontario Ministry of Education.
Mr Kennaugh undertook the visit as a participant in the NSW-based Leading Educators Around the Planet (LEAP) program which is open to teachers across public and Catholic schools.
The program provides educational leaders in NSW with an invaluable opportunity to connect with international colleagues to help enhance teaching and learning across different countries and school systems.
Through the program, Mr Kennaugh has formed a new Peer Principal partnership with Ms Virginia Pang from Western Technical College, a public school in Toronto which specialises in vocational education and training.
"This has triggered a really useful collaboration between the Year 9 classes in the two schools where they will be able to share insights into robotics via a regular video link-up", Mr Kennaugh explained.
"This is the first time the LEAP program has been extended to Catholic secondary school principals and it is a really rewarding experience and I'd certainly encourage others to take advantage of it as well."
"It is always very worthwhile to experience first-hand other school systems and witness other modes of operation to help enhance our everyday work as school leaders", he added.

During his trip to Canada, Mr Kennaugh also had an opportunity to receive a guided tour and an official welcome at De La Salle College "Oaklands" in Toronto.
The coeducational Years 5-12 school has a proud academic record stretching back to its foundation in 1851 and Mr Kennaugh received a warm reception at a whole school assembly.
"The College President Br Domenic Viggiani had spent some time teaching at Casimir College when he visited Sydney and he was interested in learning more about our positive psychology program which was really encouraging", Mr Kennaugh said.
"One of the other benefits to flow on from this are reciprocal visits with Canadian principals travelling to Australia, giving us an opportunity to also share some insights into what works well here as well".