Posted by Br Gary Wilson FSC on 27 November 2020
For someone who likes the gym, keeping fit, and hanging with family and friends, it was a world away to be packing and distributing food parcels outside Beirut for months of COVID. Maroun, a 24-year old from the Bankstown area of Sydney, was volunteering as a staff member on the "Fratelli Project" in Lebanon. A visionary venture initiated by the De La Salle and Marist Brothers, it is an agency located in Rmeileh, a southern village of the capital. Its goal is to educate children and young people, largely refugees from the Syrian civil war.
Growing up in a Sydney in an Australian-Lebanese family, Maroun attended Southern Cross Catholic Vocational College in Burwood, studying VET subjects, and becoming School Captain in 2013. He was involved in community service and was a youth group leader at St Charbel's in Punchbowl, NSW, developing social skills, leadership, and youth programs. A bright, outgoing young man, he was a property manager of a boarding house for four years, but was drawn to more volunteering: "I wanted to give of my time and volunteeringin a rich program". Exploring the web, he found a fit in the Lasallian Volunteers, and in the whole 2019 year he was helping running camps and retreats, a "Breakfast Club" for needy students, and being a peer guide to Year 10 at De La Salle Secondary School Bomana, Papua New Guinea. Adapting and challenging!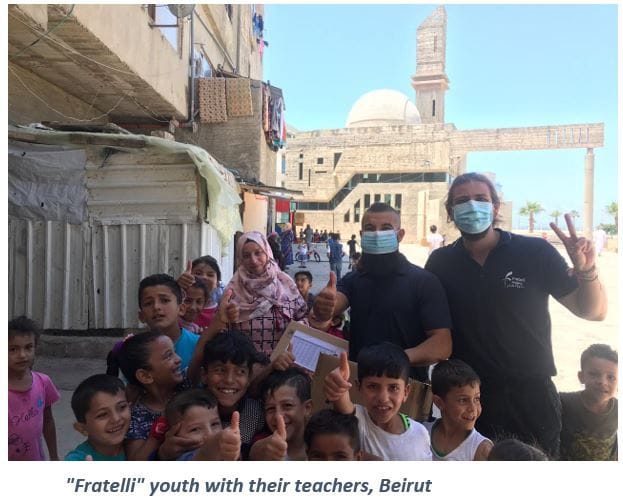 The Fratelli Project ignited his interest: "I felt something in my heart pulling me there" says Maroun. "It would allow me to thrive as I perform best in new environments". Having been interviewed and selected, at 23 years old, Maroun set off for a 12-month stint in January 2020. Up to a quarter of the Lebanese population are refugees. He became involved in the transition-to-normal school activities for the Syrian, Iraqi refugees and local Lebanese youth doing it tough with disasters, war and dislocation in their lives. The refugees or stateless youth can be 4 to 20+ years of age. They live with their families, and need to learn writing Arabic, English etc. Weekly sports, after-school tutoring and classes for parents fill out the program.
The staff become role-models, and with COVID-19 emergence in late March, the closure of all schools was decreed. Staff became emergency workers, filling and distributing food packages and cleaning packs, as the cost of living increased dramatically. One new mind-challenge for Maroun came with the devastating and horrific Beirut port explosion, coming as he was from a Lebanese family. The Lasallian Volunteer program was discontinued at this stage, but there were three flight cancellations of bookings before he could fly home. Maroun saw it as "disappointing, not to have experienced the full richness of the program" but he did not dwell on what he couldn't control. Being forward-looking, he applied to continue Lasallian volunteering.
Maroun now works three days a week at the Lasallian yourtown agency in St. Mary's in western Sydney assisting and mentoring search-for-work or unemployed youth. He gives weekly "power talks", conducts mock interviews, and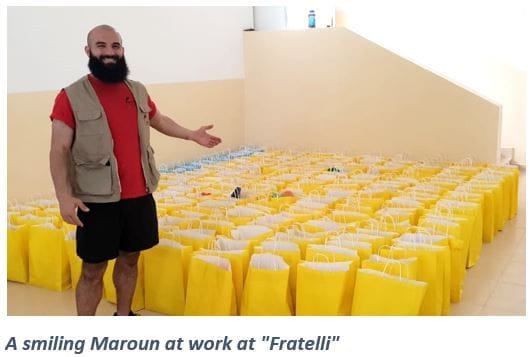 prepares youth for job presentation. He gives talks virtually to youth in the South Australian yourtown agency too. On two other days, he connects with secondary students at La Salle Catholic College Bankstown, offering learning support to struggling students.
Switching cultures, adapting, taking up the challenges, all a part of a creative life with purpose for Maroun: "it gives me a sense of community, service and love."
If you would like to became a Lasallian Volunteer, please contact admin@delasalle.org.au or call 02 9795 6400