The internationally respected Lasallian educator Br Jeffrey Calligan has received a warm welcome across schools in Melbourne at the start of a tour visiting schools and Brothers communities around Australia.
Br Jeff is well known and admired across our District for the pivotal contribution he made to the success of Lasallian Education Services during an eight year stay in Melbourne from 2006-2014.
Br Jeff is also admired by many principals and religious education coordinators for his great contribution to the Buttimer program in the United States.
He had the opportunity this week to revisit two Lasallian schools in Melbourne where he is fondly remembered by staff and students for his contribution to the religious education programs at the schools- De La Salle Malvern and St Bede's College Mentone.
He will also be visiting St John's College Dandenong and St James College East Bentleigh over coming days before travelling on to Sydney, Adelaide, Perth and Brisbane for further visits to Lasallian schools before departing for San Francisco on 21 June.
Br Jeff has been compiling a daily blog about his visit- "From the Land Up Over", sharing insights into Lasallian education in Australia with fellow Lasallians in the U-S, including teachers back at De La Salle High School in New Orleans- a school where he served as Principal for ten years.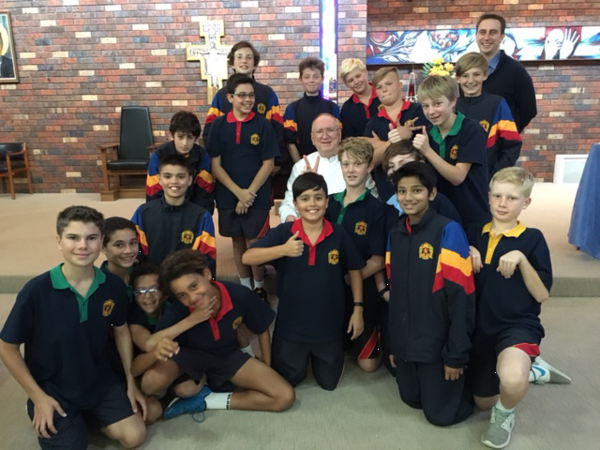 In his daily blog, Br Jeff has reflected upon the way in which Lasallian values are lived out at De La Salle Malvern and St Bede's Mentone after taking some religious education classes this week at both schools.
"They thrive on the idea of brotherhood", he wrote.
"It is palpable in the schools with teachers walking the careful road of touching hearts and accompanying students"", Br Jeff added.
"Content is not as important as is relationship and teachers have learned that in the Lasallian understanding, skills and content are only taught when there is a positive relationship between them and each student".
At St Bede's College, Br Jeff attended a school assembly where he was proud to see two senior students singled out for assisting an elderly woman in distress on a city bus.
"Care for others reflects the St Bede's boys' innate desire to assist those in distress regardless of age or circumstance", he added.
Br Jeff has also praised the dedication shown by many Lasallian partners teaching in Australian schools.
"Partner or Brother make no difference. That is God's business", he wrote in his daily blog.
"The 'our' here is the Lasallian Family with no ranking of religious or lay".
"We are one community".