Posted by Jordan Grantham on 7 December 2018
By Jordan Grantham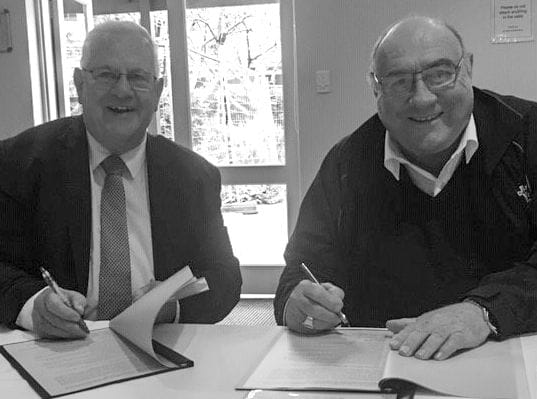 History has been made with an agreement about the provision of Lasallian Youth Ministers and Lasallian Volunteers at Luurnpa Catholic School, Balgo Hills in remote Western Australia.
Br David Hawke, Visitor, Bishop Christopher Saunders and Mr Merv McCormack, Executive Director of Lasallian Mission Services, signed the agreement recognising the longstanding relationship between Luurnpa Catholic School Balgo Hills, the De La Salle Brothers and Lasalllian works through the Lasallian Volunteers program.
The Lasallian family has worked with and supported the people of Balgo Hills for over thirty years, assisting in the establishment of the school, including the Kutjungka Trade Training Centre with local Indigenous Elders and leaders.
The signing ceremony took place on 28 November 2018 at Mary MacKillop Place, North Sydney, a spiritual epicentre of Australian Catholicism as the location of St Mary MacKillop's shrine.
Bishop Christopher Saunders of the Diocese of Broome is himself a Lasallian, having studied at St Bede's College, Mentone.
Multiple Lasallian schools have had Immersion Trips to Balgo, including De La Salle College, Malvern.
READ MORE: De La Salle Malvern Immersion to Balgo Hills
This year one Lasallian Youth Minister and four Lasallian Volunteers will live and work at Luurnpa Catholic School.
The 2019 Lasallian Volunteers in Balgo will include Pearl Bartlett from from the United Kingdom, who worked at St Cassian's Centre, Kintbury, a Lasallian retreat centre for young people.
The 2019 Lasallian Volunteers in Balgo will also include Alexander Murrie and Leah McDonald from Oakhill College, Castle Hill and Gerard Kelly and Ryan Vaux from St Bede's College, Melbourne.
READ MORE: Lasallian Volunteers for 2019 Announced
Five Fascinating Balgo Facts
1. It is one of Australia's remotest Indigenous communities: 460 people a 3,100km drive from Perth, the state capital.
2. German Pallotine Catholic missionaries founded the town in 1939 but were soon classified as "enemy aliens" during WWII.
3. Seven languages are spoken in Balgo: English, Kukatja, Walmajarri, Jaru, Pintupi, Warlpiri and Kriol.
4. Balgo is a 'dry community' - alcohol is forbidden - except for the purpose of the consecration at Mass.
5. The Warlayirti Art Centre, Balgo has produced world famous art since Catholic missionaries introduced canvas and paint in the 1970s.