The following article is about a service trip to Cambodia by Karen Bloomfield, Director of Religious Studies from John Paul College in Rotorua.

---
On the April school holidays, a group of Year 12 students and staff members, Stephen Bloomfield, Colleen Graham from JPC travelled to Phnom Penh, Cambodia on a service trip.
After a couple of days acclimatising and exploring some of the beautiful palaces and pagodas in Phnom Penh, we made our way to a small Lasallian Kindergarten school in the village of Po Thum. The school is run by two Brothers and while we were there, Brother John, the original founder and builder of the school was standing-in for Brother Francis who unfortunately had a family bereavement. We had one day to settle into the basic but clean accommodation and get ready for our week in the classroom. The school has four classes of 25-28 students (a total of 105). Two classes have children aged 5-6, and two are aged 4-5.They are each taught by local teachers, all women, one of whom spoke English.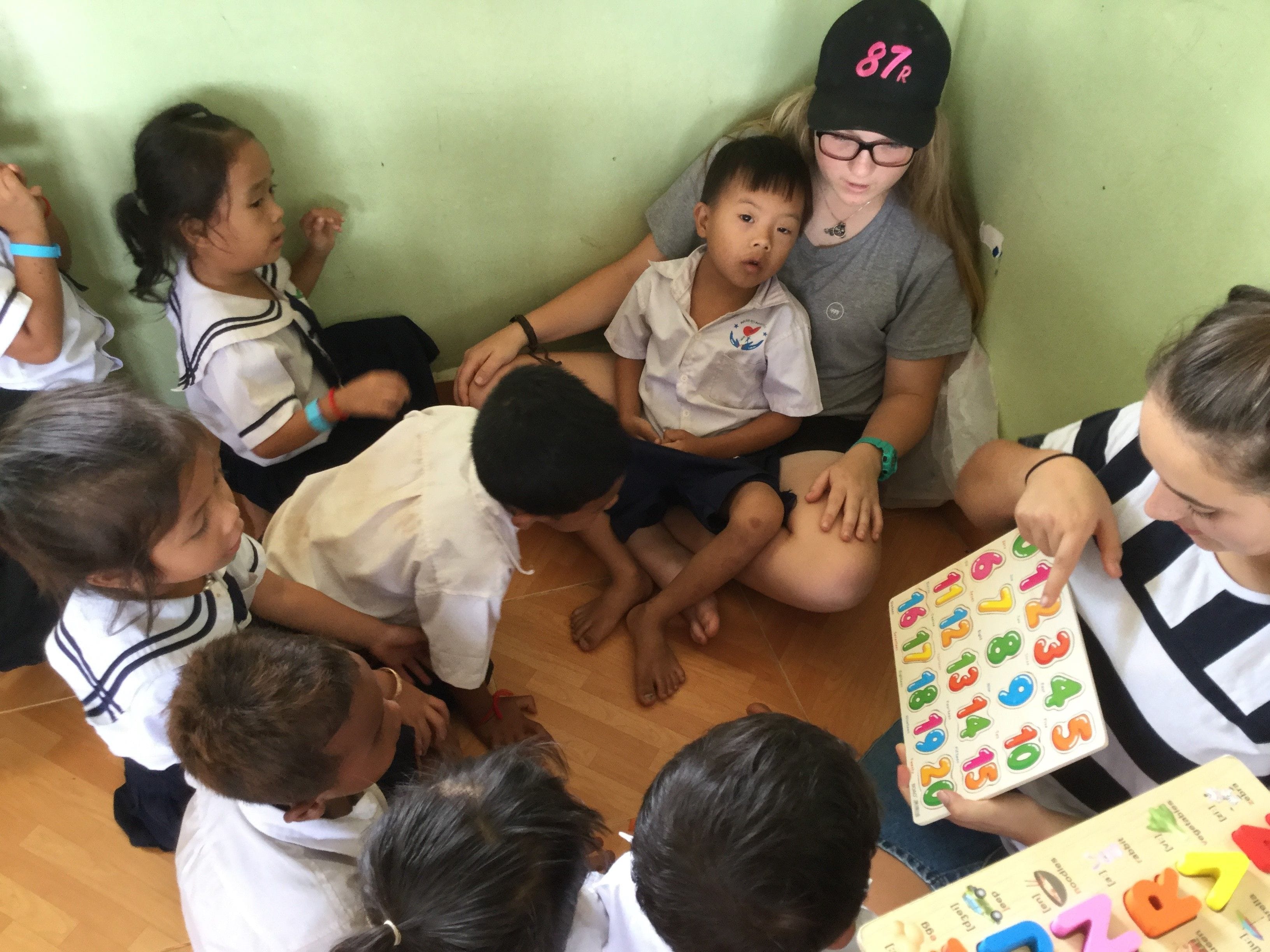 The school day begins at 7.30am and finishes at 4.30pm. After school, lots of the local school children come to the school to play football or other sport. The Brothers encouraged us to talk and interact with these students too. For those of us who managed to wake up (and most of the girls did manage at least once) the day began with prayers at 5.15 am in the beautiful prayer room. Then followed by breakfast at about 6.15am with children arriving from about 6.30am. School officially starts at 7.30am with roll call and exercise. It comprises of four sessions before lunch and two in the afternoon.
During the morning, we taught two sessions with the older children and another one or two with the younger students. We focused on the alphabet, simple words and stories and counting (all in English). We were greeted at the start of each lesson with a rousing "Good morning Teacher" and each lesson finished with an enthusiastic shout of "Arkoun Teacher!" which is Khmer for thank you, teacher.
In the afternoon we focused on more fun activities such as making paper lanterns, froggy masks and bouncing around to music (in the style of 'jump jam'). Both the teachers and the students were enthusiastic and their appreciation was evident. At the end of the school day parents and children had big smiles and yet more thanks.
Of course, there was some downtime too, to play with the children and help them brush their teeth after lunch. Not all the girls spent all their time in the classroom; two of our students spent quite a few hours painting a beautiful mural.
Before we knew it, the time had come to leave and we finished off with the whole school dancing and jumping to 'jump-jam' style dance and exercise. We gave each child a small gift. Once again smiles abounded. But our visit wasn't quite complete.
On the final evening, the Brothers and teachers put on a surprise traditional Cambodian BBQ on the final evening as a farewell and thank you.
After such a tremendous time, we would love to make this an annual service trip.