The yourtown counselling service, Kids Helpline, has received a national award for its work in protecting children and young people around Australia.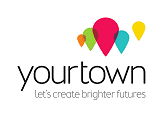 The Lasallian agency was recognised through the annual Play your Part Awards which are organised by the National Association for Prevention of Child Abuse and Neglect (NAPCAN) to coincide with National Child Protection Week from 4-10 September.
The awards acknowledge inspiring initiatives which reduce children's risk of experiencing abuse and neglect.
The yourtown service, Parentline was also recognised in the state category of the awards for its Queensland programs.
Now in its 25th year, Kids Helpline has grown from very humble origins as a Queensland-based phone counselling line in 1991 to now respond to over 200,000 contacts from young people nationally each year, many through digital platforms.
yourtown Chief Executive Officer, Ms Tracy Adams said the agency was honoured to be recognised through the NAPCAN Awards.
"It is a privilege to have so many across the community support and enable our work", Ms Adams said.
"The award is one the whole organisation should be very honoured to receive and we share it with all those who make our work possible", she added.
Kids Helpline also received a national award last year for its innovative school-based web counselling program, Kids Helpline@School, which relies upon a partnership with Optus.
Under the program, qualified counsellors conduct sessions on topics such as peer pressure and cyber bullying with classes of primary school students via video link.
In 2015 alone, over 11 thousand students have been able to access this free early intervention program.
To find out more about yourtown visit https://www.yourtown.com.au/
To find out more about Kids Helpline visit https://www.yourtown.com.au/what-we-do/kids-helpline