A team of three talented Year 11 students from La Salle Academy in Lithgow have been declared state champions in the finals of the NSW Catholic Schools Debating Association competition.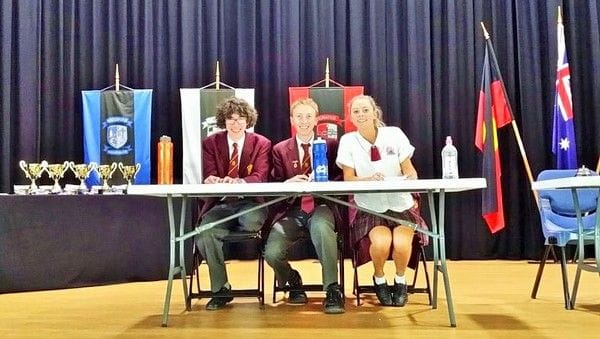 The La Salle Academy team made up of Lauren Corney, Callum Woodrow and Dalton Neville defeated their closest rivals from St Dominic's College in Penrith in this month's final.
This is a great credit to the Lithgow students who had to win the regional final earlier in the year before facing the best metropolitan school in the state finals.
The Executive Director of the Catholic Education Office in the Diocese of Bathurst, Ms Jenny Allen presented the team with their trophy during a visit to La Salle Academy.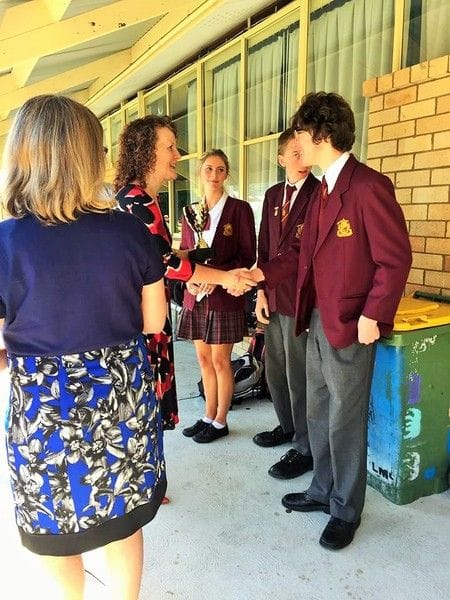 The competition is a real test of students' public speaking skills and general knowledge in the digital age.
The participants are only allowed one hour's preparation time when they are given their topic and need to work together as a team with no coaching from teachers to shape their case.
They are only allowed a dictionary, blank paper and cards with no access to computers and mobile phones to carry out their research.
To be declared state champions is therefore no easy feat and a great achievement for La Salle Academy, its students and staff.