Posted by Br Gary Wilson FSC on 20 November 2020
The 21st. Century has some great advantages: the worldwide web allows us to know and connect with people and their lives so instantly. The District Lasallian school in Malkhanwala, Pakistan is known well by our students in De La Salle Ashfield and Francis Douglas College New Plymouth, both being "twinned" to it. La Salle Boys High School in this suburb of Faisalabad begun in 2008, and its history is summarized in a forthcoming book about the Lasallian Mission in Pakistan.
A request came from local parents to the Faisalabad bishop, who asked the Brothers to supervise a new school. The needs of the suburb were great: parents were, and are, semi or unskilled labourers working for a day's wage. Mothers are domestic workers employed in wealthy houses. There were seven students in April 2008, increasing to 30 within four months, and teachers, paid by Br. Christie, Principal of La Salle Faisalabad, went door-to-door to raise awareness. By 2009 there were 120 students.
At present, there are 338 students enrolled in the school. The enrolment has decreased due to the COVID-19 and the abrupt closure of all schools for almost six consecutive months. Even after the current reopening, daily attendance of the students is badly affected. The 75 girl-students are enrolled in the primary section only. This year 100% of students and the 19 personnel belong to the Christian community. Ms. Pauline, a Co-ordinator, has seen that "our Christian faith is spreading day by day".
The disadvantage that a minority Christian community faces in Pakistan has meant continual subsidy by the Lasallian District for staff salaries. The Lasallian Foundation till 2018 funded student fees, and many maintenance and development projects. Today, as Br. Zohaib, the Supervisor, says: "95% to 99% of the students can't afford to pay the full monthly fee which is only about $AUS 9.50 for classes 9th and 10th, and even less for the lower classes. The monthly collection of fees is barely enough to pay the utility bills of the school, and see to the day-to-day running and minor maintenance of the school. Salaries of the personnel are subsidized by the [Lasallian] District. Very often, the new students have to be given uniform, books and shoes to be able to come to school. This is a very visible expression and embodiment of our Mission and Service to the Poor".
This critical Lasallian gift of "Service to the Poor" has been obvious from 2016 with the "twinning" offered by Francis Douglas College New Plymouth and De La Salle Ashfield. From this time, the listed projects have been completed with huge solid help of our two Australian/ New Zealand schools. In 2020, a school logo and motto ("In God We Trust") have been created. Br. Lewis Harwood has been very generous in helping write an anthem for the school. Soon it will be finalized and composed into a melodious tune.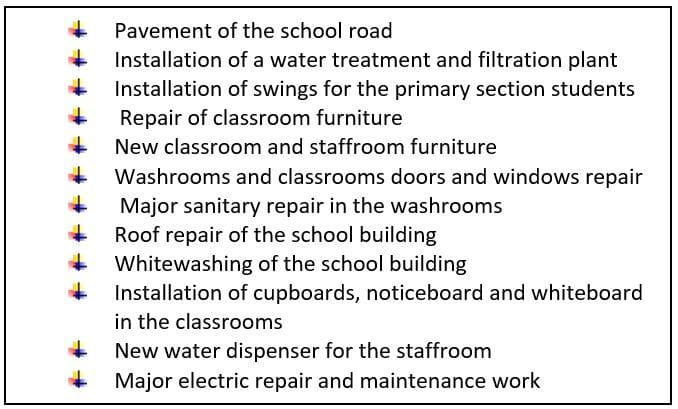 What does the future hold? Br. Zohaib details some designed directions for this special school:
"There is a tentative strategic plan in progress from September 2019 to work on improving the physical and administrative structure of the school. [Other goals are to] lift up the teaching and learning standards, academic excellence of the students, introducing fruitful co-curricular activities, increasing (enrolments)and enhancing the professional development of teaching and administrative staff. Rejuvenating the school library and its regular and systematic use, and updating the science and computer labs are some current needs".
Just as our twinning schools of Francis Douglas and De La Salle Ashfield have been motivated to donate so generously, so too Malkhanwala students and parents have been motivated by regular parent-teacher meetings, student counselling and the challenge to attend regularly and punctually. As the administration team says, "We hope that with God's grace and the generosity of our kind donors we'll be able to continue to make a positive difference in the lives of our students and their families, by enlightening them with education imbedded in Gospel values".
Obviously, great benefits from both sides of the twinning partnership!