"Arrow-catcher" and O'Connor Catholic College staff member Anthony Kelly has set over 40 Guinness World Records and counting, more than any other Australian and in so doing has brought global attention to his home city through his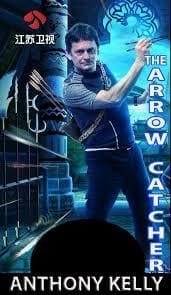 daredevil antics.
The energetic Learning Support Officer has travelled the globe, setting remarkable records from catching the most spears from a spear gun under water through to the most arrows and the most tennis balls, both sighted and blindfolded.
Visitors to Armidale in northern New South Wales will often spot international TV crews in town with most of them having an interview arranged or a Guinness Record film-shoot pre-arranged with Anthony Kelly.
A proud graduate of O'Connor Catholic College from the class of 1980, Mr Kelly currently works with students with special needs, encouraging them to take up extra curricular activities.
He has also been able to direct his love for the school into his committed work as the college archivist and was also well known for many years as the school groundsman.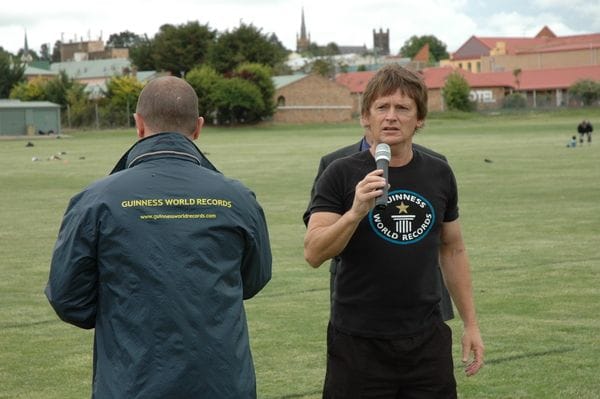 Anthony Kelly has been able to put his talents to great use at the school, having the most coaching qualifications of anyone in the world, across a remarkable ten sports and he holds 15 Blackbelts in martial arts.
Mr Kelly credits a large part of his success to his schooling at O'Connor Catholic College where he received a great deal of mentoring and support from the De La Salle Brothers and the Ursuline Sisters.
"I went through a particularly challenging time in Year 10 when my father died of cancer and I received wonderful support at that time from Principals Br John Pill and Br John Cantwell", he explained.
"And then after I left school and was looking for local work, the then Principal Br Gary Coyte put tremendous faith in me and asked me to take up the massive job of groundsman at the college which was a really big responsibility for a 22 year old".
While not a keen sportsman at school, Anthony Kelly developed a great love for martial arts later in life which was nurtured through the encouragement of his wife, Christine Shing who also works as a Learning Support Officer in Armidale.
Together they manage the popular New England Martial Arts Centre with their son Taylor which boasts over 200 students from the local region.
Anthony Kelly attributes his super-human reflexes to an unusual diet of meat and potatoes and good genetics.
He is not one to rest on his laurels and is planning 15 more records at the moment.
Mr Kelly has also found time to conduct reflex-training sessions in Lasallian schools including a recent visit to St Bede's College Mentone where his long-time mentor Br Gary Coyte is the current Principal.
Through all his record-breaking efforts, Mr Kelly has drawn strongly upon his personal faith.
"One of my favourite passages from scripture is Psalm 91 which I read frequently, especially before setting each record: 'You will not fear the terror of night, not the arrow that flies by day. A thousand may fall at your side, ten thousand at your right hand, but it will not come near you."