In his role as Executive Director of Schools for the Catholic Diocese of Parramatta, Oakhill College alumni Greg Whitby is responsible for nearly 80 schools in one of Australia's fasting growing and most culturally diverse regions.
Mr Whitby is the nation's longest serving director of a school system, having spent ten years in his current job and seven years prior to that directing Catholic schools in the Diocese of Wollongong, south of Sydney.
From his office overlooking St Patrick's Cathedral, he reflects back on how his strong values and faith were shaped by the De La Salle Brothers.
"My education at Oakhill College provided me with a sound education and I was very fortunate to have had some powerful mentors, including a number of Brothers who strongly supported and encouraged me for many years after I left school", Mr Whitby explained.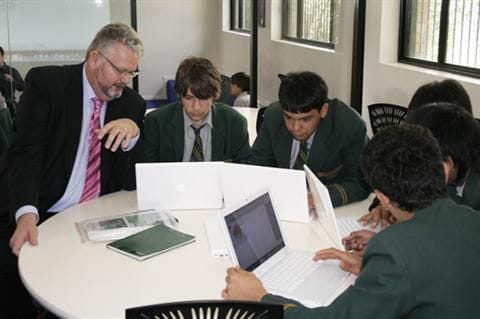 A graduate of the Class of 1971, Greg Whitby has fond memories from his years at Oakhill in classes of up to 50 students where there was strong, but fair discipline and amazing teachers who inspired their students to make the most of their potential.
"Br Ambrose Payne taught me English and he has made such an incredible contribution to Catholic education in Australia, especially in teacher education", Mr Whitby said.
"Another teacher who had a powerful influence on me was Br Nivard or John Mitchell as he was widely known, who used to write a personal letter to me every year, congratulating me on my achievements and letting me know how proud the Brothers were of me".
After graduating from Oakhill College, Greg Whitby undertook his teacher training at Macquarie University in the early 1970s, before working as a primary and secondary teacher in government and Catholic schools in western Sydney over a 20 year time period.
He has seen first hand how dramatically school education has changed over the past 40 years from the rigid "chalk and talk" approach to teaching and learning of past generations towards the collaborative and virtual learning spaces of today.
"When I first started teaching in 1974, I was handed a copy of the primary school syllabus and told by the Deputy Principal that I would be judged according to how quiet my classes were", Mr Whitby explained.
"Nowadays, that same approach would never cut the muster because schools have become far more complex environments to work in".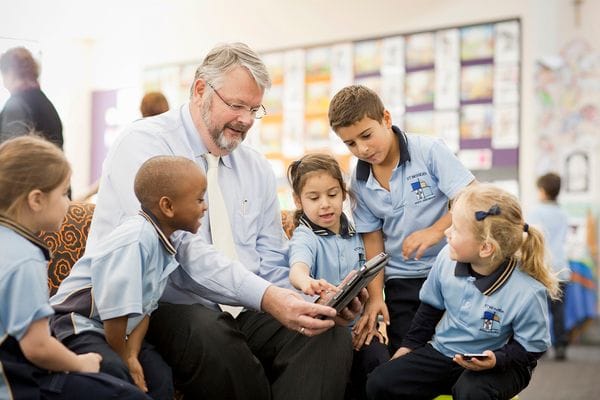 A visionary reformer, Greg Whitby has been at the forefront of adapting classrooms across the Diocese of Parramatta to meet the challenges of the digital age.
In many cases, this has involved redesigning classrooms, transforming them into open-plan virtual learning spaces rather than the fixed desk layouts of the past.
At St Monica's Primary School in North Parramatta for example, the entire school has been brought together under an open plan learning space, allowing teachers and students to collaborate across all levels of the school.
Greg Whitby's vision has extended to an overhaul of traditional notions of school leadership, going as far as calling for principal appointments to be opened up to managers from the private sector.
"I want to see people leading our schools who are forward-looking and collaborative and I believe we can't afford to stay with a rigid, one size fits all approach to leadership", he explained.
Mr Whitby points to the early success he has had recruiting applicants for St Luke's Catholic College- a new Early Learning-Year 12 college which will open in Marsden Park next year with two thousand students.
Through working alongside tertiary and business partners, Mr Whitby believes the new college will be able to offer a far richer and more diverse curriculum which can be tailored to suit the needs of individual students.
"The fastest growing area of schooling now is in home schooling and tutoring", he explained.
"We need to adapt our practices to suit a changing environment because if we don't respond now, schools could risk becoming outdated institutions rather than vibrant and collaborative places of learning".
Greg Whitby's outstanding contribution to Catholic education was recognised in 2012 with the awarding of a Papal Knighthood.
"While the award itself is a tremendous personal honour, it would never have been possible without the support of a great team of people here around me in the Diocese of Parramatta", he said.
"And as I look back on what led me here, I'd also like to think that the De La Salle Brothers can take a share of the credit as well".