Kane Raukura AFSC, Head of Faculty Science and Lasallian Facilitator of De La Salle Mangere East, Auckland, has gifted the College with a handmade mosaic for the College driveway.
The Lasallian mosaic also commemorates his 20 years of service at De La Salle College and has dedicated the artwork to the Founder in honour of the Tercentenary.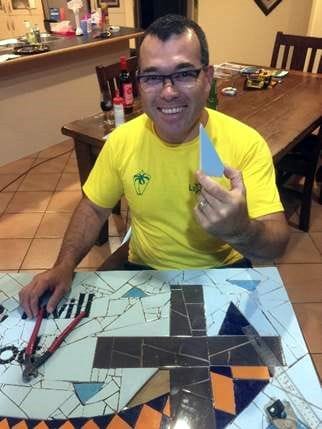 " I feel a great sense of honour and privilege in presenting this to the school. It measures 2.4 metres by 0.770 metres and is the largest mosaic I have done to date," added Kane.
An explanation of our driveway 'Lasallian Mosaic'...
By Kane Raukura
I was introduced to 'Mosaic's' by my wife Meredith who teachers Classical Studies and I fell in love with this style of art. I decided to do a piece for the College as a gift from myself. This is the result. It was started well over three years ago and has occupied a large amount of space at home. To say that Meredith is pleased it is finally finished is an understatement! I formally dedicate it our Founder - Saint John Baptist De La Salle on the occasion of his Tercentenary. I pray that the whole community finds it a source of joy and hope! And an inspiration! God bless you all.

Our Founder - Saint John Baptist De La Salle. 300 years after his death, his vision to 'provide a human and Christian education to the young, especially the poor,' continues to inspire and motivate us today. We are blessed and fortunate to still have a strong connection with the Brothers today.
The Hibiscus Flowers - as beautiful flowers of the Pacific, they represent the beautiful children we teach. They crowd our Founder, a teacher like us, for inspiration and guidance. We are this ages 'De La Salle'.
The Cross - eyes firmly fixed on the Cross, De La Salle is unwavering in his faith. God is his beacon, his guide and his protector. The Cross reminds us of this, compels us to have a meaningful prayer life and a connection with Christ all of our days.

The Blue Background - not the sky, but the sparkling Pacific Ocean. Our home and the home of our ancestors. We stand on the shoulders of those that went before us and we shall never forget.

The Quote - "Wherever I go, I will find you my God.". This is from De La Salle's writings called the Method of Interior Prayer. It ties directly to Psalm 139:7-10. It provides hope and comfort, that wherever we are, whatever we are doing, God is right there with us.

The Tapa - the weaving 'Tapa' through the mosaic represents all our Pasifika peoples and the faith we have in God and Christ. Students are given a Christian education, inspired by our Lasallian charism and rooted in the message of the Cross.