Posted by Michael Kenny on 7 November 2015
Pacific Asia Regional Councillor Brother Ricky Laguda has been visiting schools and Lasallian works around the country as part of his current tour of Australia.
As part of his visit to Melbourne, Br Ricky has now visited three schools and the offices of the Lasallian Foundation in Malvern.
Lasallian Mission Council Communications Officer Michael Kenny writes from Malvern.
"Br Ricky received a warm greeting from Lasallian Foundation CEO Miranda Chow and her team over morning tea at the Foundation's offices, directly next to De La Salle College Malvern.
Over coffee, fruit and chocolate muffins, Miranda delivered an excellent presentation to Br Ricky, outlining the inspiring work undertaken by the Lasallian Foundation across the Asia-Pacific region, despite its limited resources.
Since its inception in 2004, Miranda explained how the Foundation has distributed 9.4 million dollars towards 525 projects across 12 countries.
A large focus of this effort has been directed towards improving girls access to education in countries such as Pakistan and Vietnam.
And those efforts are bearing fruit with female students in Gokkuwal in Pakistan now embarking on tertiary study in medicine and information technology- an achievement that would have been unthinkable a decade ago.
And in Vietnam, construction is expected to begin before the end of the year on a secondary school in Dak Mil, which will have a majority of female students, including many from the Montagnard tribe- a group which has long suffered discrimination in the country.
Miranda explained the Foundation's efforts in helping to raise teachers' salaries in Pakistan and Papua New Guinea and promoting greater access to professional development for teachers in these countries.
Australian and New Zealand teachers would be shocked to learn that teachers in Lasallian schools in Pakistan only earn around $1253 per year, while in Papua New Guinea, teachers' salaries are still very low by our standards- at $10,600 per year.
The salaries in PNG can't keep pace with the rising cost of living with the average rent in Port Moresby a staggering $750 per week.
Miranda told Br Ricky about the inspiring contribution Lasallian schools are making through immersion programs aimed at assisting fellow schools across India, Sri Lanka, Cambodia and Papua New Guinea.
But the Foundation needs ongoing support to do such valuable work in the face of economic challenges including foreign currency fluctuations and high inflation in many of its donor countries.
After chatting with a number of Lasallian Foundation board members including retired Family Court judge Paul Guest, Br Ricky then stopped for a brief coffee at the Brothers community in Malvern on his way to De La Salle College.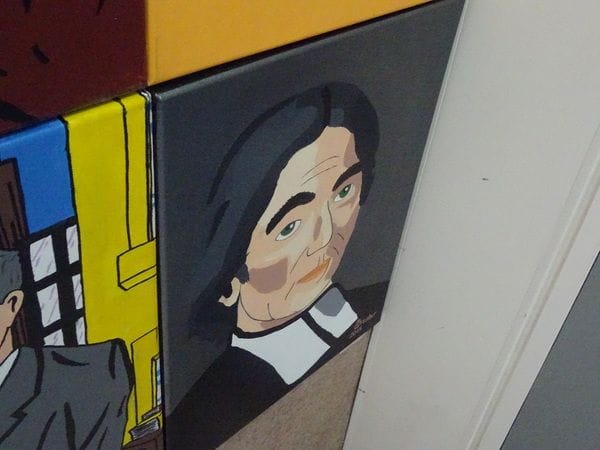 As the rain poured down, Principal Peter Houlihan quickly organised some school umbrellas and shared some insights with Br Ricky over lunch on the amazing history of the college which stretches back to 1906.
The Year 4-12 school has a rich Lasallian identity with statues and artwork of the Founder in many parts of its campus.
Br Ricky sat in on music, indoor soccer and woodwork classes during his college tour and received a warm welcome from students and staff.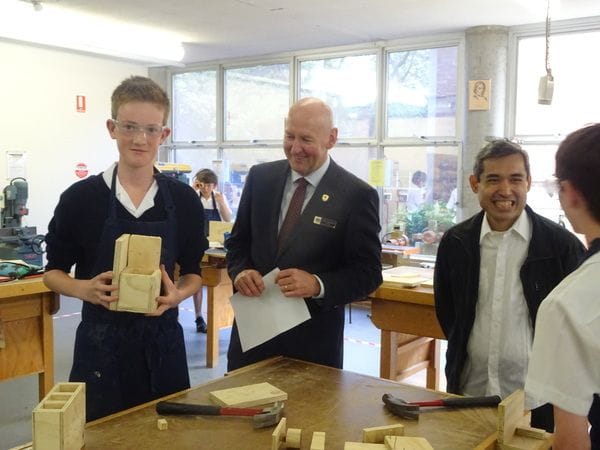 The school has had a long and proud record of working in partnership with the Lasallian Foundation on valuable aid projects, raising a staggering 103 thousand dollars this year through its Mission Action Days.
A group of Year 11 students travelled to Bomana in Papua New Guinea in September, helping to renovate the Lasallian high school there.
Up to 20 Year 12 students travel to India each year, volunteering as builders' labourers for a few weeks in Lasallian schools.
Another group of Year 12 students also travel to the Indigenous community of Balgo Hills in the remote Kimberley region of Western Australia as volunteers at the Luurnpa Catholic School.
And De La Salle College Malvern also has an annual exchange program for Year 9 students with La Salle Green Hills College in Manila where students work in poverty stricken areas and provide outreach work to streetkids in the city.
Principal Peter Houlihan says the programs are life-changing.
"The boys come back with a much greater appreciation of how fortunate they are and an understanding of what we can do to help our Lasallian cousins in the countries we visit", he explained to me.
"The Lasallian ethos of being of service to others is very strong here".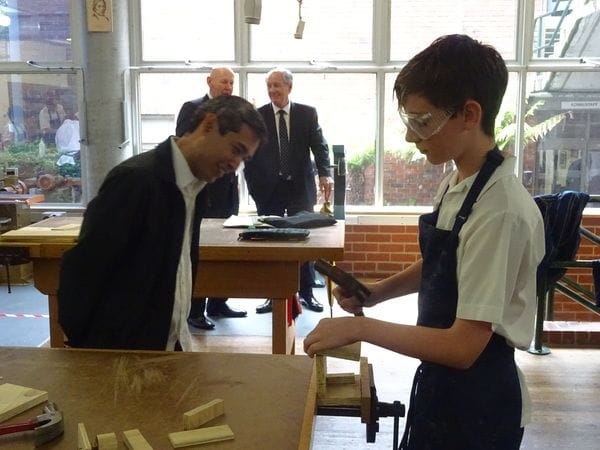 Br Ricky and I were made very welcome at a Year 9 assembly where a number of students spoke about their recent exchange visit to La Salle College in Hong Kong.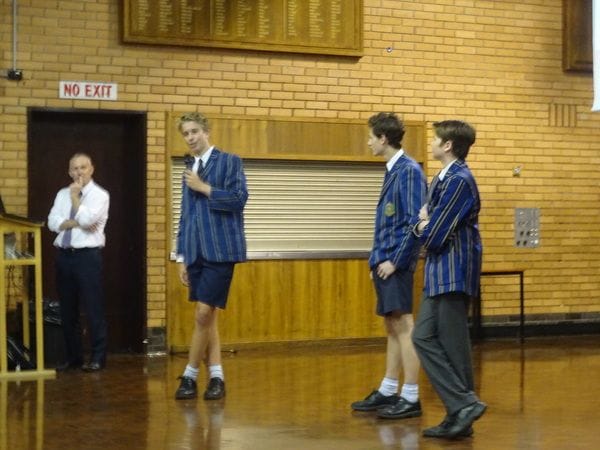 The students formed strong friendships with the students there and shared with their classmates their insights into another culture and way of life in a fellow Lasallian school.
As the final school bell rang on Friday afternoon, Peter Houlihan farewelled Br Ricky who was bound for a dinner with Philippines Alumni that night in Melbourne.
After a weekend spent meeting with Brothers communities in Malvern and Mentone, Br Ricky is bound for St Michael's College in Henley Beach, South Australia, for the final leg of his Australian tour.
Despite a hectic schedule of visits, his enthusiasm for the work being undertaken by Lasallians across Australia has never waned and he is indeed looking forward to a return visit in April alongside Superior General Br Robert Schieler for the Lasallian Educators Conference in Perth.