Talented art students from De La Salle Colleges at Ashfield and Cronulla have won prestigious prizes in the annual Clancy Prizes for Religious Art, which were placed on public display at the Australian Catholic University's (ACU) Strathfield campus.
The awards, now in their 16th year, are named in honour of the former Archbishop of Sydney, Cardinal Edward Clancy and entrants have to focus on a different religious theme in their work each year.
This year's theme focused on a quote from St Francis of Assisi: "Be praised my Lord for the gift of life; for changing dusk to dawn; for touch and scent and song".
Year 9 students from De La Salle Ashfield received a collaborative prize for their work on six panels, representing each of St Francis' key words.
The students took one month to put together the panels, depicting each element of the quotation, using bright colours to depict the dusk and dawn.
Two recent graduates from De La Salle Cronulla also received prizes for outstanding individual artwork which were inspired by a school pilgrimage to Italy last year.
Chris Koustabardis received the $1000 Brian Jordan Award for The Market, a colourful painting which depicts the bounty of creation in a Roman marketplace.
Chris is now directing his artistic talents into his studies in architecture at the University of Sydney.
Fellow De La Salle Cronulla graduate Brittany Livingstone received one of three awards donated by the ACU School of Education for an outstanding painting depicting the Tuscan landscape, Lloyd's Giornata.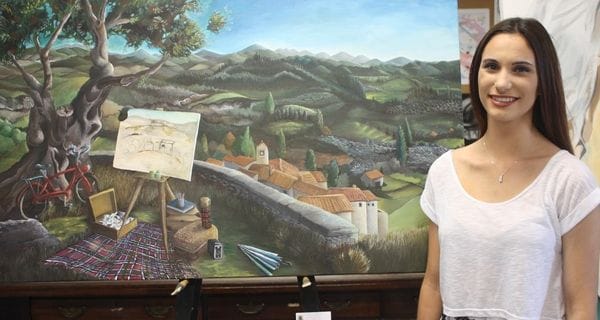 On a pilgrimage to the medieval hill town, San Gimignano, Brittany drew upon the quote from St Francis to capture the changing shades of light in the landscape at dawn and dusk.
Brittany's painting formed part of her major work in Visual Arts as part of her HSC last year and she is now studying law at the University of Wollongong.