Read the second and final installment from Principal Martin Chamberlain from Francis Douglas Memorial College in New Zealand. Martin and his wife had the opportunity of visiting schools in Faisalabad and seeing FDMC's twinned school for Founders Day.
---
Our 24th day in Pakistan is being taken as a lazy Sunday where the air-conditioning is preferable to 42C outdoors. There have been times when I have believed our planned time here was too long. On other occasions however, I have gained an insight that has made the picture here ever more complete for me. Even though one's experiences in another country are only a series of snapshots, I feel that thanks to Brother Shahzad Gill's generosity, reflected also by all of the 18 Brothers and 15 trainees we have met, our impressions are accurate enough to bring back home to those who will follow us. Many will be familiar with Steven Covey's, "Seek first to understand then to be understood" and I am glad we have had the time to do that. I had been expected to be put to work in classrooms immediately but that would have been a mistake. Even working with the whole staff of two schools for four days has occurred only this week and I had to approach it with a lot of my recent learning on board.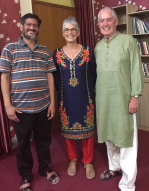 After having visited all their schools with Claire, I now believe that what the Brothers have achieved in Pakistan is truly remarkable. In the late 50's they readily embraced what Brothers from Sri Lanka brought to this country and have since amassed an impressive enterprise of people and buildings. Under the ten-year tenure of Brother Shahzad and those before him, the growth the Brothers have managed to achieve, especially with the poor at their centre, has been impressive. Current student numbers are more than 5,000 and growing. Their comparative excellence in educational provision has meant the Brothers have been able to take from the willing richer fee-payers to benefit the appreciative poor. This is truly Lasallian in a fashion not so easily achieved in Australia and New Zealand or PNG.
The Brothers have also ensured that the planks upon which their charism is grounded are well known to lay teachers and students alike. Any Lasallian expression I have used is usually greeted with nods of familiarity provided my Kiwi accent has conveyed its meaning clearly enough. Another source of people's knowledge of the Founder and his ethos is the abundant Lasalliana that appears on walls and in classrooms all around the schools. Those quotes and items of advice have helped the messages seep into people's way of life.
Navigating life as a Catholic institution in an Islamic nation has been successful. The inclusion of Moslem staff members and students into the schools, the neutral references to "God", the obvious intent to make life better for the people of Pakistan, 60 years of work, and the absence of any apostasy, would make it challenging for even the most unfriendly political or administrative figure to challenge the existence or benefit of the schools.
Humble Khushpur, in the middle of nowhere, has certainly been pivotal to the Mission. It has the been the virtual Nazareth of Pakistan with its small population of around 4,000, producing more than 300 priests, religious, catechists and politicians. I believe the locals and others refer to it as Rome. Despite this comparative fame, it remains a town of old world simplicity and daily toil. The annual Come and See camp is being held in our compound at present and 23 young men, ten of them from Khushpur, have arrived. Only a maximum of six will be selected for entry to train as a Brother. These robust young men with little but their Western clothing with Americanised motifs, are gracious, devout, able to sing like larks and know how to have great fun together.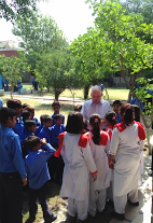 Our visit to all of the schools has been an eye-opener and once again I say, cursed be the examination and reporting systems. Even the nursery and prep' students here, aged four and five, have lengthy oral and practical examinations and reports sent home to anxious parents that comment in percentages on literacy, numeracy, and other measures. This runs counter intuitively to much modern research that suggests children should be left only to play and experiment up to the age of six and a half. Senior students I have chatted with can recite word for word accurate definitions for any scientific term I would expect a NZ student to be familiar with. Digging deeper, I have found that the practical understanding behind those definitions is also present despite the paucity of any equipment for demonstrations. Education is highly prized and for many students, school life is much richer than home life. Staff do comment about indiscipline of students but the teachers' access to only textbooks and chalk makes class time inevitably monotonous.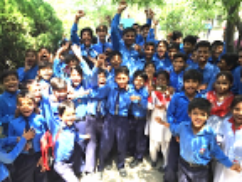 My training with staff has been to assist in planning that breaks up the lesson into short episodes involving as much variation as can be collectively dreamed up. We have also given training in Western address but I am still being called, "Brother, Mr. Martin, Mr. Martin Joseph" A beautifully made thank you card the other day was inscribed, "Mr. Claire and Mrs. Martin". Unknown to me most of the time will have been my equal clumsiness with their language and ways.
Malkhan Wala our twinned school has a very caring and united staff. After making two visits there the urgent need for drinking water is crying out to be our next MAD project. The local water is salty and polluted and many students spend the 7:30 till 1:30pm time at school with nothing safe to drink. Water is one of life's basics and I am sure FDMC will be keen to fund a water purifier and chiller for their 450 students.
We have been greatly enriched by our sabbatical visit and I am grateful to Sir Brother Pat Lynch, our staff and BOT and the Brothers here in special Pakistan.
St John Baptist de La Salle Pray for us. Live Jesus in our hearts forever. Martin Chamberlain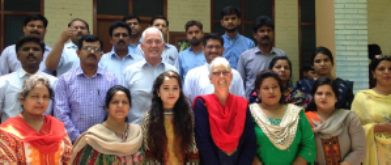 This document is available in PDF
Read the first installment: Two Lasallians among their own in Pakistan
Image 1: Pick the Westerners. We are pictured here with Brother Sajid Bashir who is the Principal of Lasalle Urdu High School Faisalabad-Campus 2 and the overseer to the acting Principal at Malkhan Wala High School.
Image 2 & 3: Enthusiastic Malkhan Wala students queue for a handshake.
Image 4: Malkhan Wala staff are caught with shutter fatigue not knowing which camera to respond to next.