Albans Boys/Girls High School Multan
On the 23 March 2018, The Alban Boys/Girls High School Multan in Pakistan all gathered as one family to have their Lenten Recollection Day. Br. Naqash organised the day's program which offered much food for thought and reflection for all teaching staff present.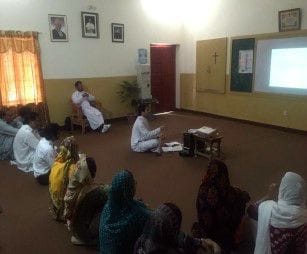 Principal Br Moon commenced proceedings, paving the way for the conversation ahead with an inspirational presentation that was well received and appreciated by participants. The day provided teachers the opportunity for personal reflection about their own contribution as teachers, while they considered the following questions.
In what way does your work serve the common good?
In what way is your work part of God's on-going work of creation?
Staff members shared their thoughts which encouraged an open forum for feedback to benefit students with their ongoing studies and Formation.
As a result of the fruitful gathering, the Recollection Day turned out to be inspirational and thought-provoking for all participants in support of the new academic year ahead.
Br. Naqash Sarfraz FSC