Proud De La Salle College Ashfield alumni, Monsignor William Mullins is a remarkable priest who has spent over 70 years in active ministry across three continents, first as a De La Salle Brother and later as a Diocesan Priest.
Over those seven decades, Monsignor Mullins has worked in the Vatican alongside two Popes, taught De La Salle novices in Sydney and seminarians in Adelaide, undertaken a doctorate in the United States and worked both as a primary and a secondary teacher in Lasallian schools around Australia.
Now at the age of 92, he continues to work part-time, offering critical pastoral support to Catholic priests who decide to leave religious life and wish to continue practising their faith.
"Priesthood is a sacrament, just as baptism and marriage are sacraments and so there is a clear process we need to follow to provide that ongoing support to these men and I have found this work extremely rewarding", explained Monsignor Mullins from his offices at the Polding Centre, home to the administration of the Archdiocese of Sydney.
Through compiling extensive documentation on each case which is forwarded as far as the Pope himself, Monsignor Mullins has offered support to 17 men over the past decade with many of them having their marriages blessed by the Catholic Church.
"While these men are dispensed of their vows, they can still hear the confession of a dying Catholic and provide them with absolution which is a great blessing for them as well".
As he reflects back on seven decades of active ministry, Monsignor Mullins said he has always carried the Lasallian tradition with him which he has cherished since his childhood.
"I came from a strong Lasallian family and four of my brothers were also Old Boys of De La Salle Ashfield", he explained.
"I was really inspired by the De La Salle Brothers who taught me, particularly their care and dedication to the students under their care, to such an extent that I enrolled in the novitiate when I was 13", he added.
It was a golden era for religious vocations and during his years as a secondary teacher at De La Salle College Malvern, William Mullins was one of 17 De La Salle Brothers in his community as he continued his studies part-time through the University of Melbourne.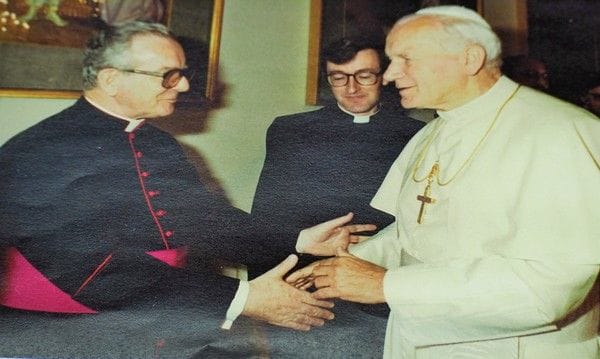 Recognised as a talented teacher and theologian, then Br William was appointed in 1970 to a position on the newly-established Vatican Congregation for Catholic Education under Pope Paul VI.
It was to be the start of 15 years of work over two separate periods in the Vatican where Monsignor Mullins earned such a high level of respect that he was promoted to the rank of Prelate of Honour to his Holiness by Pope John Paul 2 in 1986.
"I was very fortunate in that I got to know Pope John Paul 2 well in that role", he explained.
"He was such a warm, friendly and gregarious man and when my parents visited Rome, he gave them a blessing to mark their 60th wedding anniversary which was of course, a great moment for our family".
Monsignor Mullins has captured first hand how dramatically the Catholic Church has changed over recent decades in his memoirs, published in 2011, especially as a result of the landmark reforms of the Second Vatican Council in the 1960s.
He is very optimistic about the future and is particularly inspired by some of the lay leaders he meets today.
"I recently spoke with the Australian Catholic University Vice Chancellor, Professor Greg Craven who has now been appointed to the same position I held on the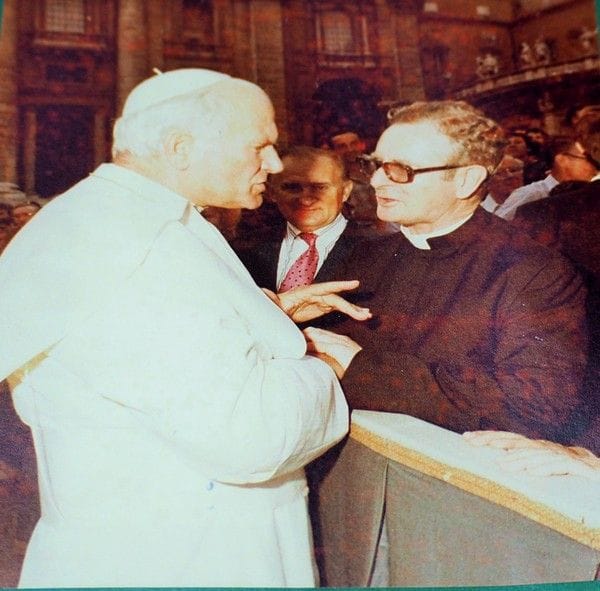 Vatican Education Commission in the 1970s which is very encouraging", he explained.
"And within the Lasallian family too, I see so many alumni from our schools, who may not be De La Salle Brothers, but love the charism so deeply and treasure their school memories so strongly, that they want to keep the spirit very much alive for the next generations as well".
"Once a Lasallian, always a Lasallian".