The Lasallian Mission Council (LMC) board has undertaken a landmark Strategy Workshop in Sydney to help guide its future plans and priorities for our District.

The workshop on 27 October was facilitated by Mr Chris Barrett, a nationally respected educational consultant who has led strategic planning and reviews across Catholic education systems for over two decades.
The Pacific Asia Regional Councillor Br Ricky Laguda attended the workshop alongside Brother Visitor David Hawke. LMC Board Chair and Auxiliary Visitor Br Chris Gorringe chaired the workshop..
Mr Barrett drew upon the latest research and professional insights to guide the board through a comprehensive one day workshop at the De La Salle Provincial Office in Sydney.
This covered key areas such as good governance, strategic planning and the unique qualities needed in effective boards in the not for profit sector.
During the course of the workshop, Mr Barrett drew upon key documents from the Australian Institute of Company Directors and research from the Harvard Business School to help guide the group activities and discussion.
This helped trigger some invaluable discussion around the role of the LMC Board as stewards of the Lasallian mission- a role shared with the District Council, other Lasallian works, Boards of Institute Colleges and Boards of Associated Schools.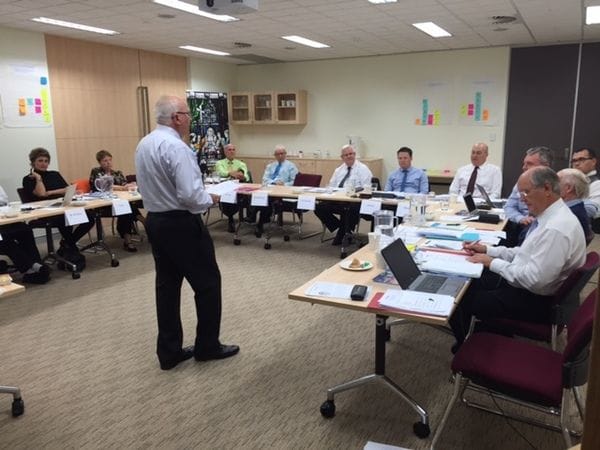 Mr Barrett also helped initiate some useful discussion around the skills sets and Lasallian formation needed for Board members, succession planning and a model for renewal of Board Directors.
PARC Councillor Br Ricky Laguda congratulated the LMC on the work it is undertaking in reviewing the Board's strategy and backed recommendations for it to consider revisiting its Strategic Priorities, the Skills Matrix and Composition of its Board.
The Lasallian Mission Council Board is comprised of 11 Directors from across all four Sectors in our District and also includes the Chief Executive Officer of yourtown, Ms Tracy Adams.
Since its foundation as a result of a District Chapter in 2012, the LMC Board has been fundamentally committed to ensuring the sustainability of the Lasallian mission in our District so that the needs of the young, especially the marginalised in our society, can continue to be met.
Through bringing together De La Salle Brothers and Partners, the LMC Board is a key means of strengthening the association between the Brothers and those engaged with them in that shared Lasallian mission, ensuring a real co-responsibility in decision-making.