Posted by Jordan Grantham on 12 September 2018
Image: The Round Up ride at LaSalle Catholic College, Bankstown's Mission Action Day. Photo credit: Jordan Grantham, Lasallian Mission Council.
Madness abounded at LaSalle Catholic College, Bankstown's Mission Action Day (MAD) on Wednesday 5 September 2018, the annual all college celebration and opportunity for solidarity with the less privileged.
The high energy day featured an all college Mass, fete, rides and talent show fundraising for La Salle High School Campus 2, Faisalabad, Pakistan, the College's twin school.
Fr Van Nguyen, parish priest of St Felix de Valois Church, Bankstown celebrated his first all college Mass at LaSalle Catholic College, Bankstown, assisted at the altar by Deacon Ronny Maree and several LaSalle students.
This was Deacon Ronnie's first all school Mass since being ordained a transitional deacon two months ago. The nephew of the esteemed Monsignor Shora Maree was impressed by the students' devotion and college spirit.
Katie White, Religious Education Coordinator, reminded students that the purpose of the day is to live what St John Baptist de la Salle taught about the Christian life regarding education for the poorest. She thanked the many people who made the all college Mass a success.
"The liturgical items used at communion were quite beautiful. Fr Van and the parish kindly donated these items to the college and I would like to thank them very much for what is a beautiful gift," Katie said.
Principal Michael Egan affirmed students present from other Lasallian schools, such as De La Salle Catholic College, Revesby and those studying at the intensive English language course, who will soon join the college.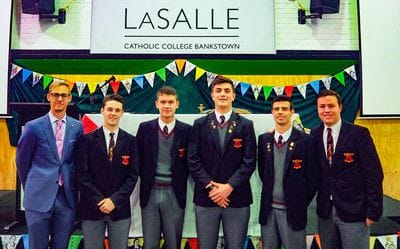 Peter Nowakowski and captains from De La Salle Catholic College, Revesby. Photo: Jordan Grantham, Lassalian Mission Council
"You are part of our community and will soon join the school," Michael told the intensive English language students, who received a hearty round of applause.
Stalls around the college sold a great variety of treats, including sausage sandwiches, meat skewers, cupcakes, Krispy Kreme doughnuts, and strawberries dipped in chocolate.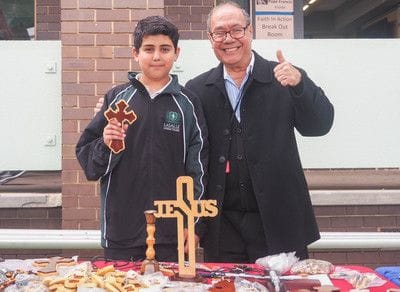 Mr Saad, a mathematics teacher and Coptic Orthodox Deacon presented beautiful crosses and other piety items he made by hand.
Christian Metry, one of Mr Saad's students, held up a small cross and yelled from the balcony, "Sir, this is mad!"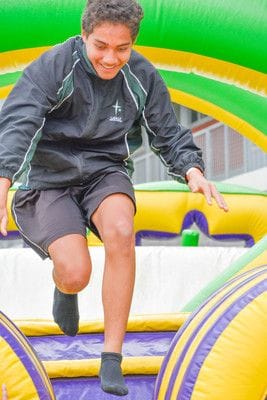 Multiple rides were available throughout the college campus, such as a jumping castle, a tea cups ride and a round up which spun students high into the air.
It was a special day for the College's Lasallian Facilitator, Anne Nowakowski, whose son Peter Nowakowski now teaches at De La Salle Catholic College, Revesby and was present with several captains.
"This my favourite day of the year. It's like the school's birthday," Anne said.
Bunting flags decorated the school for the festive day, thanks to Year 7 students.
The successful day was possible due to the efforts of many staff and students, raising an impressive $11 022.30 which the Lasallian Foundation will distribute to La Salle High School Campus 2, Faisalabad, Pakistan.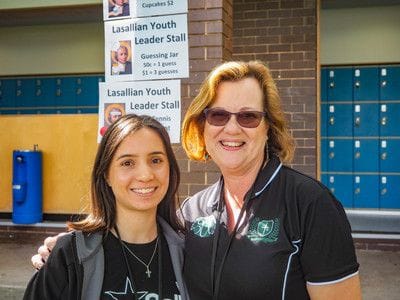 Stefanie Breda, Youth Minister and Anne Nowakowski, Lasallian Facilitator, LaSalle Catholic College, Bankstown. Photo: Jordan Grantham, Lassalian Mission Council