Posted by Jordan Grantham on 12 October 2018
Over the course of Term 3 and the recent one-week holiday, students from the newly formed Youths for La Salle group came to De La Salle Bomana to do group service.
Youths for La Salle is a group that focuses on living out the key Lasallian values of Faith, Service and Community.
Over the course of the term the young men from Grades 9 - 12 have made a massive impact.
Whether it was in the rain or stifling humidity the boys turn out in numbers.
Some of the jobs they have during term include: creating new flower beds & planting new flowers, clearing the construction waste/rubbish in front of the new Admin block, lining and levelling out space for a volleyball court and general maintenance of the school. In the holidays they started painting the outside of all the classrooms.
The boys have been tireless in their efforts and exceeded expectations. Thank you to the students and staff who sacrificed their Saturdays and holidays to come and help.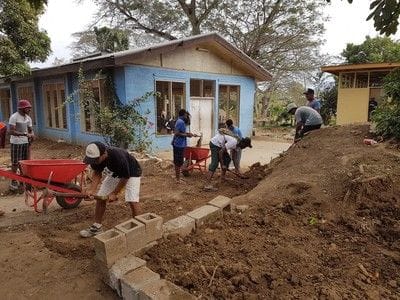 Also in Term 3 Week 3 De La Salle started its Lasallian Breakfast Club. Thanks to the 9 Orange class who cleaned the unoccupied dining hall within two periods and made it ready for use.
On Week 3 Thursday we successfully began serving over 200 students over the course of 2 days. Currently it is being held three days a week, with 130 bread rolls and tea being served each day.
It has been a great opportunity for students from different year levels to have a chance to sit down and chat to one another. If facilities/resources become available, we hope to start serving rice and stew in the near future for a more nutritious meal.