Posted by Australian Catholic Bishops Conference on 4 October 2019
"Parish communities can be of tremendous help - offering hope, unconditional love, and support to people who often find themselves stigmatized and isolated from the community. Persons with a mental illness and their families frequently turn first to clergy for answers to this severe crisis in their lives. The illness can raise profound questions concerning God and faith. The parish response can make a difference in people's reaction to the crisis and their recovery from it. Since society has struggled in its responsibility for adequate care of those who face serious mental illness, it is critical for parish communities to speak for those who often have no voice in the community seeking compassion for those affected and justice for what is rightfully theirs. The parish is called upon not only to reach out to individuals and their families but also to bring about change in the systemic problems facing the mental health delivery system.
Parish communities are like a stained glass window. When we see a stain glass window in a church, we are struck by the beauty of the story it tells. The window usually depicts a story from scripture or an aspect of our faith. Taken as a whole, the window gives a complete picture of a particular story or inspiring moment. When we approach the window and look closely at the art, we see that the window is made up of many pieces of glass. The pieces have different shapes and sizes, some are large and some are tiny. We see that the pieces are made of different colours.
Upon closer inspection, we see that the pieces have flaws in them, some have lines or cracks, other have tiny air bubbles in the glass. But taken together as a whole, the unique pieces, big and small, of various colours, with all their flaws transcend their individuality and come together at the hand of the artist to give a dynamic story of faith.
But what happens if part of the window is missing? What if we were to remove all the brown pieces of glass, or remove the large pieces, or the ones with bubbles in them? The picture would be incomplete. We would not get the whole story.
The Body of Christ, the parish community, in one sense, is like a stained glass window. It lives the story of redemption and salvation in the reality of everyday life. The pieces of the story are made up of many kinds and sorts of people - young people, elderly people, married people and single people, people of different backgrounds, people of different shapes and sizes, people who are divorced, people with various disabilities, etc.... Like the stained glass window, the Body of Christ is made up of many parts. If we intentionally or unintentionally exclude, discriminate against or ignore one or more of the parts, we do not get the whole picture. We are missing the full story. The picture is incomplete.
People with mental illnesses are often restricted in their participation in our parishes because the stigma and misperception by society is felt within their own community of faith. Parishes, rather than mirroring the cultural biases of society, should be challenging those assumptions and accepting and reaching out to all people - to open doors and minds to the gifts of all God's people. Parishes that truly welcome and include everyone in a proactive way portray the story of redemption and salvation as a clear and beautiful image of God's Kingdom."
Statistics
One in five (20%) of Australians aged 16-85 experience a mental illness in any year.
The most common mental illnesses are depressive, anxiety and substance use disorder. Depression affects 6% of people, anxiety disorders 14% and substance use disorders 5%. These three types of mental illness often occur in combination. For example, a person with an anxiety disorder could also develop depression, or a person with depression might misuse alcohol or other drugs, in an effort to self-medicate.
Of the 20% of Australians with a mental disorder in any one year, 11.5% have one disorder and 8.5% have two or more disorders. 1% of the population has severe mental illnesses such as schizophrenia and bi-polar disorder Almost half (45%) of Australians will experience a mental illness in their lifetime. (1)
The onset of mental illness is typically around mid-to-late adolescence. One in five (21.2%) of Australian young people met the criteria for a probable serious mental illness. (2)
Up to 1 in 10 women and 1 in 20 men struggle with antenatal depression. More than 1 in 7 new mums and up to 1 in 10 new dads experience postnatal depression." .(3)
54% of people with mental illness in Australia do not access any treatment. (4)
Australian Bureau of Statistics (2009). National Survey of Mental Health and Wellbeing. Summary of Results 4326.0 2007 ABS Canberra
Ivancic, L., Perrens, B., Fildes, J., Perry, Y and Christensen, H., Youth Mental Health Report 2014. Mission Australia and Black Dog Institute, Sydney.
Deloitte Access Economics. The cost of perinatal depression in Australia Report. Post and Antenatal Depression Association 2012.
Paulson, J. F. & Bazemore, S. D. (2010). Prenatal and postpartum depression in fathers and its association with maternal depression: A meta-analysis. JAMA, 303(19), 1961-1969. (doi:10.1001/jama.2010.605)
Australian Institute of Health and Welfare. Australia's Health (2014) AIHW Canberra
Each Day - Written by Rita Sebastian Lambert
A spiritual exercise for persons with mental illness to be said EACH DAY.
I will recall that I am a child of God.
I am one who is created out of Love.
I am chosen, good, holy and have purposea task to perform here on earth before I return to the Father.
I deserve to be treated as a person who has value and dignity.
I will embrace my illness or my family member's illness as a friend this day looking for what it is teaching me about the mystery of God and life.
I will not allow the stigma of mental illness to defeat me this day. I will choose to have power over stigma by detaching myself from the stigma.
I will talk to someone today who will encourage me to see my goodness and holiness as a child of God. Maybe we will share a prayer together for one another.
I will look for humour and reasons to laugh and be happy. Quiet joy will be my goal.
I will read a passage from Scripture or something from a book of devotion, inspiration or spiritual reading that will encourage me to trust and hope in the power and love of God.
I will seek twenty minutes of solitude, silence, prayer this day. If my mind won't quiet down, if my thoughts keep racing, I will offer that as my prayer to God. If necessary and helpful, I will listen to soothing instrumental music or inspirational/religious music to quiet me and remind me that God is present.
I will walk outdoors marvelling at a sunrise, a sunset, the song of a bird, the soothing colours of nature, the serenity of green grass, a blue sky, the softness of the pastel coloured blossoms and the peaceful waters of a river, lake or creek that ripple and flow. I will remind myself that everything in nature is a reflection of the Creator and pleases the Creator just as it is and so do I just as I am.
I will delight in the knowledge that we are each created different because it is in our differences we make a more powerful and beautiful whole. We reflect a different aspect of the mystery of Life and God. Individually and together we are a Masterpiece.
In God is my hope and my joy. I will give honour, glory and praise to God knowing and trusting what God has in store for me. We do not seek or like suffering but our suffering can make us strong in many ways and more compassionate and loving to others; our brothers and sisters in the Lord.
Knowing for sure that although I long for God, God's longing for me is even greater.
I will rest in that knowledge this day!
Live Jesus in our Hearts.... Forever
What to do in a crisis
If you think you or your loved one is in danger ring 000
Explain to the operator that the person has a mental illness and is in a crisis and you need help.
Overwhelmingly involvement and support to people with mental illness will be without incident and mutually beneficial at a number of levels
Occasionally a mental health crisis can occur without warning, sometimes, but not always, when interacting with previously unknown people who have a history of serious mental illness and/or coexisting drug disorders.
The individual in question may not have been in contact with specialised mental health services or is known to services but not receiving follow up.
A crisis may involve high levels of arousal, a threat of self-harm or harm to others but also confusion or delirium where poor physical health may be an additional concern.
Sometimes a mental health crisis can occur in people without a known history but who have become seriously unwell and needs specialised care.
As non-mental health professionals it is important to seek immediate support with due regard to personal safety and the welfare of others. Urgent referral is critically important.
After a confronting mental health crisis it is most important to be able to discuss the incident with members of the parish leadership team or if necessary experts in the area.
If you think someone is having a crisis, support them by:
Keep your voice calm
Avoid overreacting
Don't make promises you can't keep! For example: promising not to tell anyone else, and promising to always be here for the person.
Listen to the person
Don't argue or try to reason with the person
Express support and concern
Avoid continuous eye contact
Ask how you can help
Keep stimulation level low
Move slowly
Don't stand over the person
Offer options instead of trying to take control
Avoid touching the person unless you ask permission
Be patient
Gently announce actions before initiating them
Give the person space
If you haven't been able to defuse the crisis, then ring a mental health professional.
Kids Helpline 1800 55 1800
Crisis support lines 24/7 Lifeline 13 11 14
Suicide Call Back Service 1300 659 467
Mens Line Australia 1300 78 99 78
Family Drug Support 1300 368 186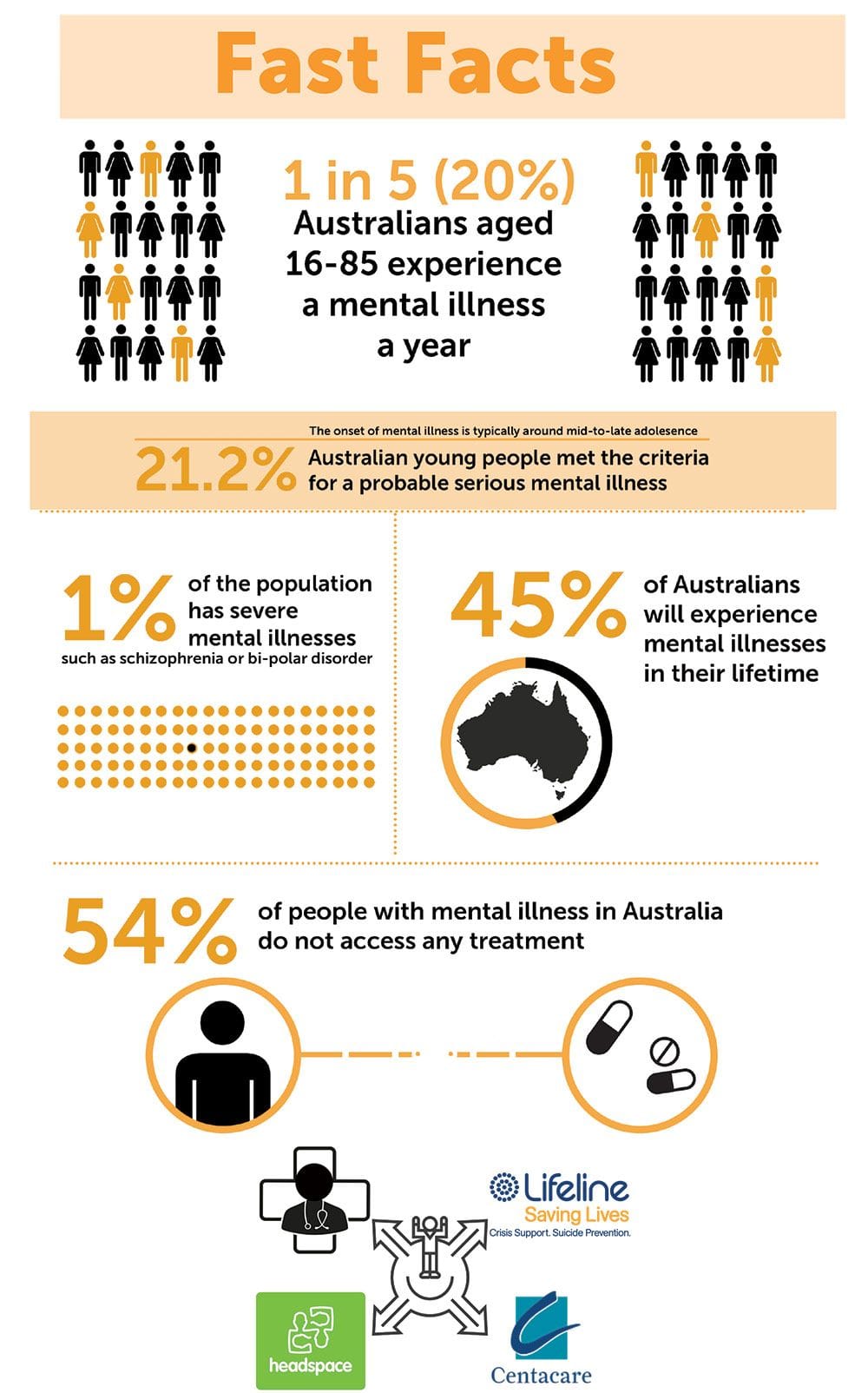 This article is intended to be a resource for Lasallians with mental illness and their families. We thank and acknowledge the Australian Catholic Bishops Conference for this resource.
More info and resources can be found at https://www.catholic.org.au/donotbeafraid