Long-serving Board Member of St Michael's College in Adelaide, John Boeyen has been made an Affiliated Member of the Institute of the Brothers of the Christian Schools in recognition of his quarter of a century of involvement in leadership roles at the college.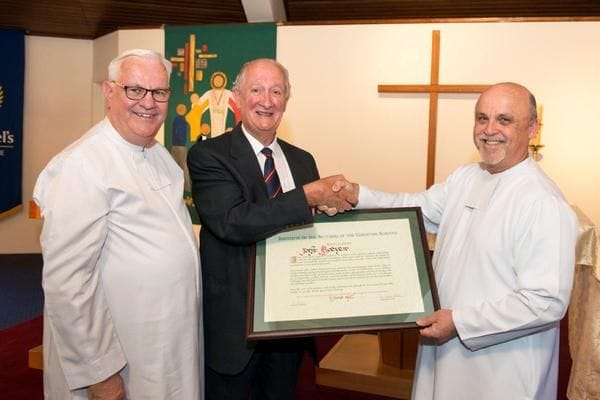 The Superior General of the De La Salle Brothers, Robert Schieler personally bestowed the honour on John in a ceremony where he was surrounded by family and supporters including some of the five Principals he has worked with on school boards and committees over recent decades.
John Boeyen's commitment to the Lasallian mission stretches back to 1980 when his son Andrew was enrolled in Year 4 at St Michael's College and John started volunteering his time as an umpire and timekeeper at cricket and football matches.
Ten years later, he was asked by the then Principal Br Paul Rogers to become a member of a committee to prepare a constitution for an advisory College Board.
John drew upon his professional experience as an accountant to become Chair of the school's Finance Committee, a position he has served in for many years.
He was one of the inaugural Directors of St Michael's College in 2005 when the De La Salle Brothers decided to incorporate the College and the other three Colleges in Australia directly owned by the Brothers.
John has been made an Affiliated Member in recognition of his exemplary work, helping to put strong governance measures in place and ensuring that the financial position of St Michael's College has been consistently strong over many years.
He has also won strong praise for his commitment to Lasallian values, marked by a strong personal spirit of faith and zeal, demonstrated also through his active involvement in Henley Beach parish in Adelaide.
In an address to staff and students at St Michael's College, John has praised the school's Lasallian traditions where all members of the school community, including non-teachers are supported and encouraged in their mission.
"I am sure most of you have heard of the shared mission where lay people have chosen to participate in the Lasallian Mission, especially in education", John said.
"While this mainly applies to educators, I believe this extends to the administrators of Lasallian schools because administration is a very important part of the education system in today's world", he added.
"I would like to sincerely thank the De La Salle Brothers for this great honour and for letting me be part of their family".