Oakhill4HumanRights Ration Challenging Again in 2018
Oakhill College students will raise money for Syrian refugees by participating in the Ration Challenge during Refugee Week (17-24 June 2018).
The Ration Challenge, organised by Act for Peace, the international aid agency of the National Council of Churches in Australia, challenges participants to eat the same rations as a Syrian refugee, a small amount of rice, flour, lentils, chick peas, beans, fish and oil for one week and obtain sponsorship to do it. The aim of the Challenge is to raise money and awareness for communities threatened by conflict and disaster.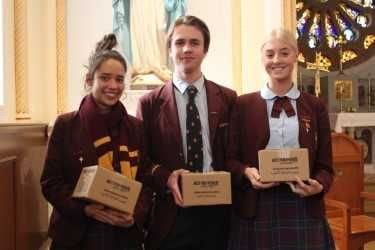 Following the success of the Ration Challenge Team in 2017, the College raised over $18,000 and the 2018 team, Oakhill4humanrights, consisting of 60 students, staff and parents, have set a target of $20,000.
The Challenge will have a significant impact on the participants as they maintain their very busy school and work schedules, preparing for assessments, sitting exams, attending meetings, social activities and trying to find alternatives, and get creative with the rations as well as being with others who are not on the challenge.
"I will be driven by the fact that every cent that I raise will provide food, medicine and education for refugees; and support other communities around the world not as fortunate as ours. Knowing that I will be making a real difference and showing refugees we're with them, not against them, will drive me," said Niahm Duggan, Oakhill College participant in 2017 taking on the challenge again for 2018.
Principal of Oakhill College, Brother Steve Hogan completely supports the Ration Challenge. "By putting themselves in the shoes of a refugee, our students will learn about global issues, develop empathy for others and feel empowered to make a difference in the world. For many of our participants, it is an opportunity to publicly take a stand against the treatment of refugees, raise awareness, start the conversations, challenge stereotypes and show that generosity and love will always prevail," said Br. Steve.
Oakhill was honoured to have the Co-Founder of the Ration Challenge Kaz McGrath visit our school to speak to our students to hand out the boxes of rations for the week. We were also thrilled to have Brother Peter McIntosh join us to pass on his first-hand experience of his travels in Syrian prior to horrific conflict that has occurred in this part of the world. His passion for advocacy and social justice for those people living as refugees is inspiring.
Students and staff left our College Chapel with a final message - 'As individuals, we can do amazing things but TOGETHER WE CAN CHANGE THE WORLD!
Chris Goodman, Director of Mission
Oakhill College
To support the Oakhill4humanrights Team please click on the following link - https://school.rationchallenge.org.au/oakhill4humanrights