La Salle General Council has released a thought provokingLasallian Reflection for 2016-17, calling on all Lasallians to be contemporary Good Shepherds, announcing the mercy of God in an increasingly secular society.
The new document, "One Call, Many Voices: Sustaining Spirituality Amidst Secularisation", draws upon a parable written by the late Indian Jesuit priest, Fr Anthony Mello which reflects upon the dangers posed by greed and consumerism.
In the parable, a monk in his travels found a precious stone and initially kept it, but later handed it over to a fellow traveller who was overjoyed with the gift, believing it would be enough to give him wealth and security for the rest of his life.
However, a few days later, the traveller came back in search of the monk, asking him for something far more valuable than the precious stone.
The Lasallian Reflection warns us of the dangers of falling temptation to temporary rewards, "lacking salt or sustenance".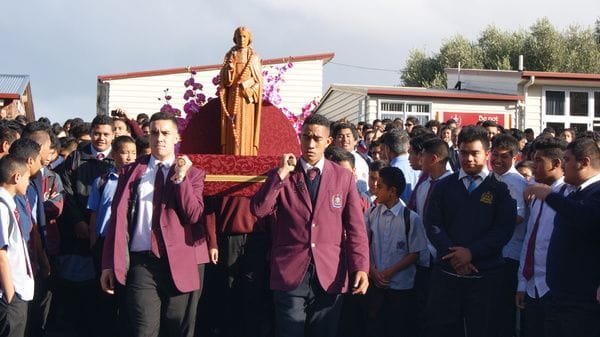 Instead, it emphasises that as we grow, we gain a far deeper and more profound satisfaction from being generous towards others, inspired by the example of our Founder, St John Baptist de la Salle.
"One Call Many Voices" reflects upon the contemporary challenges and social forces, attacking the dignity of the human person, especially the young, living in poverty.
It emphasises that Lasallian spirituality is intrinsically connected to generosity and "located in an educational community where the needs of the human person are central".
The document therefore calls on Lasallians not to turn away from the suffering endured by our brothers and sisters in war, slavery, political oppression and the denial of rights.
It also calls on Lasallians to embrace an apostolic spirituality, drawing upon the inspiration of Jesus to dialogue with the poor, representing the needs of society's most vulnerable.
In an increasingly multi-faith society, the document emphasises that Lasallian spirituality does not seek to proselytize or impose, but rather to listen with care and respect, open to the questions proposed by people of other faiths.
The Lasallian Reflection calls on us to seek out common ground, promoting shared values including human dignity, solutions that do not involve violence or war, hospitality, fairness and decency.
The Lasallian Reflection 2016-2017 concludes with a series of questions for personal and community reflection, asking us how we are preparing ourselves to be Good Shepherds for those entrusted to us, how we are engaged in dialogue with the poor , with the Church, with those of other faiths and with contemporary culture.